The momentum of change as a result of Covid-19 continues as the country seems to be gradually shutting down.
Many team sports including rugby, netball, league and football have been put on hold until the end of May, including practices. Major events like the rowing Madi Cup have been cancelled.
One school (Logan Park High School in Dunedin has been shut until the weekend, although 150 virus tests after one student tested positive have come back negative. But it seems only time until more schools if not all of them have to shut down.
All ANZAC events have been cancelled, which is a no-brainer, many of those who attend ANZAC events are in the older age group which is at higher risk from Covid-19.
Gatherings of more than 100 people have been banned, and anyone breaking this ban could face a penalty up to 6 months in prison.
New Zealanders are being encouraged not to travel overseas, and last night the New Zealand border was closed to nearly all non-New Zealand citizens and permanent residents. Humanitarian movements from the pacific and people involved in sea and air freight are exempted.
Airlines are not quite grounded but have had their wings and revenues severely clipped. Virgin and Qantas has already announced they were stopping all international flights, and Air new Zealand have reduced theirs by 85%. Internal flights are also both reduced and not required – many people are not keen on travelling.
The tourism industry is just about totally stalled, with cruise ships already banned. This impacts on accommodation, transport (buses, rentals), cafes and restaurants and many associated businesses.
Many businesses are either implementing or setting up work from home for employees – I have been assisting companies do this all week, but normal work has slowed down.
Some things are busy, especially supermarkets. There has been a surge in sales for things like freezers and IT equipment for working from home.
But most of New Zealand is shutting down to various extents.
It could go further yet, with the possibility the country will be locked down like some other countries have, with only essential travel allowed (for food or medical reasons).
And how long will this go on for? No one knows, but there are numbers of months being suggested, commonly 6 months and up to 18 months or 2 years. Some of the measures are likely to be relaxed in time, but get prepared for the long haul.
I think it is very likely there will be an enforced major change of lifestyle for 3 months minimum, probably at least 6 months, and likely into next year.
---
Govt steps in to protect Air New Zealand
The Government and Air New Zealand have agreed a debt funding agreement through commercial 24-month loan facilities of up to $900 million*. The agreement also allows for the conversion of the loan to equity at the request of the Crown.

"Without this intervention, New Zealand was at risk of not having a national airline," Finance Minister Grant Robertson says.

"Air New Zealand has a unique and critical role in our economy and society. Also, the Government owns 52% of the company, which means we have a responsibility towards it. We have acted swiftly to put this loan agreement in place and support our national carrier.

"This agreement means that Air New Zealand is in a position to play its part in making sure Kiwis can return home from overseas and that essential flights and freight lines for goods like pharmaceuticals remain open by ensuring flights continue to and from key international destinations. The agreement also safeguards the domestic network, with flights assured to all current destinations.
Grant Robertson this morning:  "Making predictions as you're all aware, I think, at the moment, about what is going to happen in three, six or nine months time is very hard, let alone what might happen in a week's time."
---
Kiwis in Australia face Coronavirus-created unemployment with no govt help
New Zealanders in Australia who face months of unemployment or dramatically-reduced working hours because of Covid-19 may get no financial assistance. Of the 634,000 New Zealanders living in Australia, about half are not eligible for welfare payments there, because they arrived after February 2001 and are considered 'non-protected special category visa-holders'.
Many people are suddenly in very difficult situations.
---
Why schools aren't closing yet:
While we are seeing mass school shutdowns elsewhere in the world, in New Zealand we don't yet have community transmission of COVID-19 – so there isn't currently a public health reason to do so here.

Pre-emptive school closures may have unintended consequences – for example, children may need to be cared for by vulnerable grandparents, or they may be put in other social settings that could make things worse.

Medical Officers of Health have the authority to close a school. They will only do so if there is a medical reason for this or after a confirmed case in the school. In that instance, they will need to close it for a short period of time while they determine if there is any risk to others.

We are, however, planning for temporary closures. Our decisions are based on evidence and very robust health advice – the World Health Organisation has confirmed that the risk to children remains low and parents should continue to send their kids to schools and early learning centres.
More: https://bit.ly/2IZ1gR5
---
NZ border restrictions to stay until evidence changes
Health Minister David Clark says the restrictions at the border will remain in place for the foreseeable future.

Dr Clark told Morning Report the ban would not be lifted until evidence showed that the coronavirus pandemic overseas was diminishing.

"[We] aren't expecting advice to lift restrictions in the next wee while."

He said people were going to have to get used to a new norm, including social distancing, self-isolation, washing hands routinely, and other hygienic habits.
https://www.rnz.co.nz/news/national/412195/coronavirus-nz-border-restrictions-to-stay-until-evidence-changes
---
The University of Auckland has just announced it will be suspending teaching across the University next week due to the Covid-19 outbreak. It is calling it a Teaching Free Week.
---
---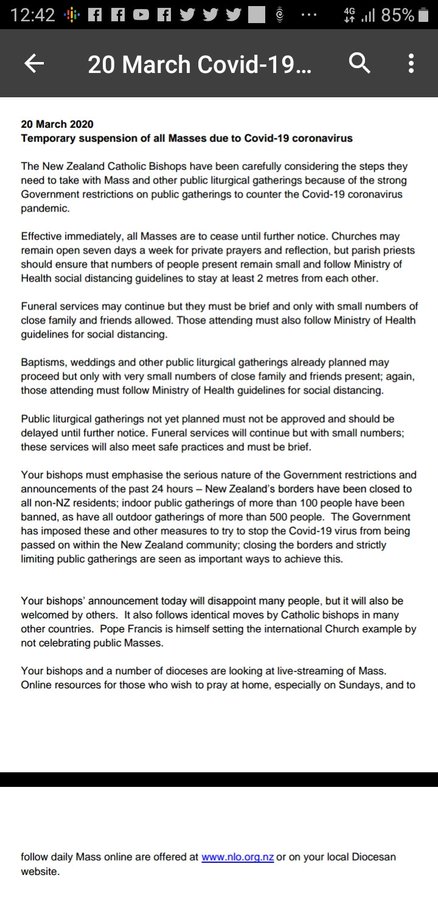 And I've just been talking to someone in the Anglican church – there will be services this Sunday as long as social distancing is observed, but no more services after that until further notice.
---
From today's Ministry  of Health Covid-19 media conference there are 11 new cases of Covid-19 (all self isolating at home), bringing the total to 39.
There were 1000 Covid-19 tests done yesterday, up from 720 and about 600 for the previous two days.
And supermarkets are running a 'shop normal' campaign, assuring supplies are not a problem, they are just struggling to restock shelves at times.