Two responses from Massey University today in response to Massey Vice Chancellor appears to have lied over Brash ban – Jan Thomas has backed her controversial position, but there two motions of censure have been put to the Massey Academic Board.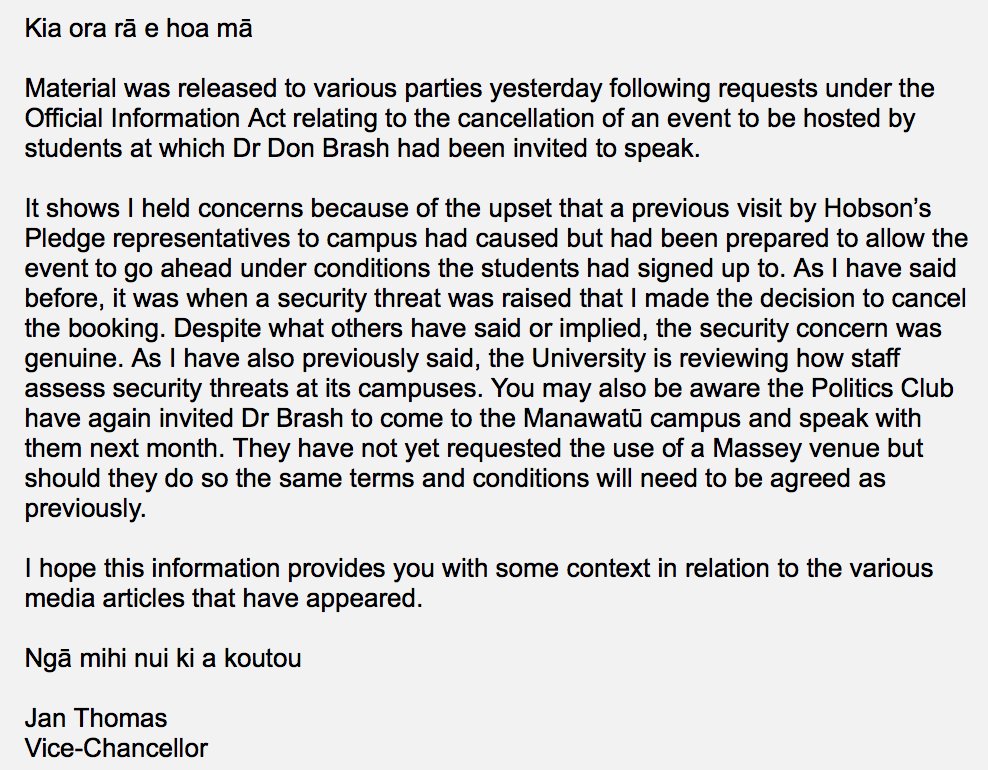 Not surprisingly that was widely criticised as it didn't really address her misleading or false claims.
Newstalk ZB:  Massey University board tables motions to censure Vice Chancellor
Some on Massey University's board are moving against its Vice-Chancellor, after she stopped Don Brash from speaking at the Palmerston North campus.

Two motions have been tabled to censure Vice-Chancellor Jan Thomas, after emails were revealed showing she grappled with Brash's speaking engagement before cancelling the event over security concerns.

Deputy Vice-Chancellor Chris Gallivan told Larry Williams the first motion simply relates to the cancellation.

"The second is a censure relating to the information upon which the decision was made, which is still relatively unclear. The emails that have come out have been most unfortunate."

Gallivan says the board will vote on the motions when they meet in a month.

He says if the motions pass, it will effectively be a telling off, and won't directly affect Thomas's job.
Good to see the motions of censure, but not addressing it for a month seems ridiculous, this will drag it out, with a stink remaining over free speech at Massey.
And it sounds like any vote in favour of censure will be little more than mildly symbolic.
Another interview with Galliven at RNZ: