One of Donald Trump's many attributes (as claimed by Trump) is that he is a great deal maker.
"Deals are my art form. Other people paint beautifully on canvas or write wonderful poetry. I like making deals, preferably big deals." — Donald Trump, "The Art of the Deal".
Trump's current deal making skills look a bit Picasso.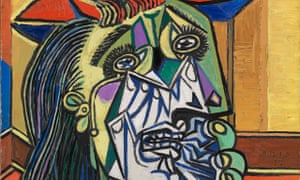 The New York Times details the apparent lack of understanding of trump over the Mexican wall funding crisis – What Trump Could Learn From His Shutdown.
In this case, the president's inability to reach some sort of deal rests heavily on several basic failures of understanding by him and his team. These include:

1. A failure to grasp how divided government works. The president somehow came to believe that he'd have more leverage once the Democrats took control of the House.

Unfortunately, Mr. Trump has been spoiled by two years of Congress being led by weak-kneed members of his party who, even when troubled by his excesses, largely let him run amok, lest he call down upon them the wrath of the Republican base.

2. A failure to understand the costs of playing only to the base. Time and again, Mr. Trump has chosen partisanship over leadership, doing nothing to expand his appeal. This puts him at a disadvantage in wooing the public to his side of the wall debate.
His job approval has slipped over his handling of the wall funding and partial Government shut down. Even both Rasmussen and Economist/YouGov has him falling to -9% – see RealClear Politics.
3. A failure to understand Nancy Pelosi. Apparently, Mr. Trump never got around to reading "The Art of War," or at least not Sun Tzu's admonition to "know your enemy." If he had, the president would have tried to develop at least a basic working relationship with Ms. Pelosi. The White House clearly assumed that, at some point — maybe after she secured the speaker's gavel — Ms. Pelosi would bend to Mr. Trump's will. But the speaker is not impressed with bluster. She is seldom cowed by political pressure from her own team, much less the opposing one. She plays the long game, and her will is as formidable as Mr. Trump's, possibly more so. One key difference: Ms. Pelosi knows how the legislative process works.

4. A failure to understand shutdown politics. If you don't want to be blamed for one, don't say you're going to own it. Mr. Trump sacrificed that option when he boasted how "proud" he'd be to grind the government to a halt.

5. A failure to understand how the government works. Neither Mr. Trump nor anyone on his team had a clue how disruptive even a partial shutdown could be — and how they'd need to scurry to prevent millions of people from losing food stamps, housing or tax refunds.
Ignorance of the real life effects of suddenly having your pay stopped. It's probably not something trump has ever come close to experiencing.
6. A failure to understand how members of Congress operate. Standing by the president when he's tweeting out empty threats and insults is one thing. But when a shutdown starts causing pain and outrage back home, Republican lawmakers, especially those in vulnerable districts or states, start asking themselves which they value more — their president or their political hides. Even casual students of Congress know that this is not a tough call.
It may also grind down his support.
Business deals are quite different. You win some, you lose some (like gamblers, business deal makers only brag about their wins, not their losses).
But political deals are far more complex. When a shutdown becomes a part of the pressure it impacts on many people who need to feed their families and retain their homes, and on politicians who want to retain their support.
A president has far more power than a businessman – but most of that power is reliant on many other people. Doing political deals requires an understanding of how to get the support needed to use their power.  Bullshit and bullying may work in some situations, like when you have a gutless Congress. But when you are up against a bloody-minded Congress understanding how politics works is important.
It may be better to liken Trump's current deal making to a different sort of painting.
But ignorant anger is not a strong hand in the art of the political deal.