Over 300 newspapers from across the United States have published editorials in a coordinated response to ongoing attacks by President Donald Trump.
Boston Globe:
A central pillar of President Trump's politics is a sustained assault on the free press. Journalists are not classified as fellow Americans, but rather "The enemy of the people." This relentless assault on the free press has dangerous consequences. We asked editorial boards from around the country – liberal and conservative, large and small – to join us today to address this fundamental threat in their own words.
NBC News: Newspapers across U.S. denounce Trump's media attacks with coordinated editorials
The widespread effort comes as the president's attacks on the press continue — but some are worried the editorials could backfire.

Newspapers and media outlets across the U.S. launched a widespread effort Thursday aimed at combating the constant attacks from President Donald Trump as well as negative feelings about the media's role in society.

More than 300 newspapers around the nation joined together to each publish editorials that explained the role of journalists and amplified the positive role journalism plays in society.

So far newspapers big and small have joined the effort, and not just ones from blue states. They include The New York Times, The Arizona Daily Sun and The North Little Rock Times.

The Topeka Capital Journal, a newspaper based in Topeka, Kansas, that supported Trump, joined in the coordinated action.

"No one will be happy all the time with what a journalist or news outlet produces," The Capital Journal editorial said. "But being called an enemy — and not of a politician or cause, but of the whole people of a nation — that's something else entirely. It's sinister. It's destructive. And it must end now."

Trump has targeted the media with criticism and accusations since early on in his presidential campaign, with those attacks continuing — and sometimes escalating — since he became president. At a rally in August, Trump described the press covering the event as "fake, fake disgusting news." Trump has made fun of the media by announcing a "fake news awards." He's also threatened to enact new libel laws and frequently attacked news outlets via Twitter.
True to form, Trump responded:
Very ironic, and very Trump. If honesty wins, then he must be one of the biggest losers – as are US democracy and credibility.
Why single out the Boston Globe? This could have something to do with it.
The effort was spearheaded by Marjorie Pritchard, deputy managing editor of the editorial page at The Boston Globe, who asked other editors to combat frequent attacks made on the press by Trump.

In an interview with The Associated Press, Pritchard explained her inspiration for the initiative:

"I hope it would educate readers to realize that an attack on the First Amendment is unacceptable. We are a free and independent press; it is one of the most sacred principles enshrined in the Constitution."
Not everyone was in favour of the coordinated campaign.
Not every news outlet was on board. The Wall Street Journal, whose editorial board is strongly conservative, published an article that was critical of the initiative, suggesting the president has a right to free speech and that newspapers have been "colluding." Jack Shafer, senior media writer at Politico, wrote that the coordinated effort "is sure to backfire."

"It will provide Trump with circumstantial evidence of the existence of a national press cabal that has been convened solely to oppose him," Shafer wrote. "When the editorials roll off the press on Thursday, all singing from the same script, Trump will reap enough fresh material to whale on the media for at least a month."
I don't think it will make much difference – Trump will lurch from attack to attack depending on what unfavourable news unfolds.
The media has many faults and flaws, but it is an essential part of an open democracy, and essential check on power.
One of the biggest potential problems is if Trump escalates his attacks and promotes and encourages division and violence, and there are signs it is coming to this already.
Trump may benefit from his ongoing onslaught – people become numb to shock with each outlandish outburst or attack.
But it is almost certain to backfire on him eventually. His accumulation of ill-will and dysfunctional relationships – with the media, with politicians, with countries, with sports people, with a growing number of disaffected whistle blowers – is sure to work against him.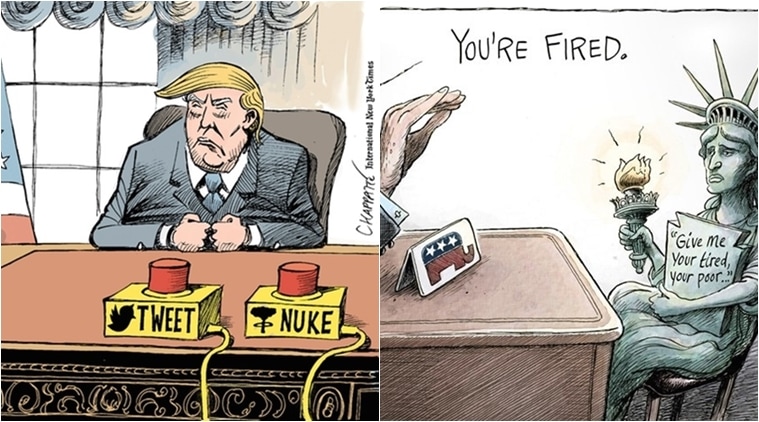 Just as people are becoming immune to shock from his behaviour, it will take more for him to achieve the levels of shock he seems to be determined to achieve. This means he could get more shocking, and trample further over the line of decency and responsibility.
The Boston Globe's editorial "JOURNALISTS ARE NOT THE ENEMY"
Today in the United States we have a president who has created a mantra that members of the media who do not blatantly support the policies of the current U.S. administration are the "enemy of the people." This is one of the many lies that have been thrown out by this president much like an old-time charlatan threw out "magic" dust or water on a hopeful crowd.

"The liberty of the press is essential to the security of freedom," wrote John Adams.
For more than two centuries, this foundational American principle has protected journalists at home and served as a model for free nations abroad. Today it is under serious threat. And it sends an alarming signal to despots, from Ankara to Moscow, Beijing to Baghdad, that journalists can be treated as a domestic enemy.