Hamish Bond and Eric Murray won gold earlier this morning in the men's pair rowing. They were favourites to win and it would have been the first real medal upset for New Zealand if they hadn't. They have been unbeatable for just about forever.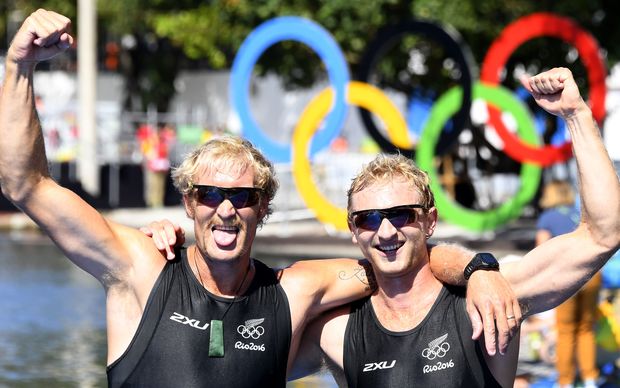 Bond and Murray, unbeaten as a pair since forming eight years ago, won by 2.8s from Britons Lawrence Brittain and Shaun Keeling, with the Italian crew third. It was New Zealand's first gold medal of the Rio Olympics.

Conditions were tricky, with a blustery wind roughing up the water, and the New Zealanders were only third at the 500m point.

But once they pressed on the accelerator, they took control of the race. They were ahead by halfway and were never threatened.

Murray said they went hard through the middle stages because they wanted to establish a clear lead.

"I wanted to get some distance over the field in case something went wrong over the last 500 metres," he said.

"We're ecstatic," Murray said. "There was a lot of pressure and expectation. Fair game as we have not been beaten. We put pressure on ourselves."

He said he and Bond were far prouder of what they had have done to get to this point than they were about the race itself.

"We're thankful for all the support we received."

Bond reflected the intense nature of the build-up when he said: "The last few months have been hard. I'm sick and tired."

He said it wasn't perfect race but "we got going in the third 500 and it went from there".
The New Zealand media finally have something positive to go overboard on. But there was no joy in other rowing events.
Sailing events continue with nothing exciting there yet.
A win that few will care about – the men's sevens team team won, beating France 24-19 in a 5-8 place playoff. I think they will play Argentina for 5-6, who have just beaten Australia, at 9 am.
Luuka Jones is in the Kayak slalom final at 6.00 am.
Track cycling qualifying events start for New Zealand at 7.00 am.
Danny Lee Lee and Ryan fox must have played their first rounds in the gold but I can't find a result for them yet.
Just seen Ryan Fox birdie the 15th to go to even par. Still can't find a leaderboard or finished rounds. Ok, just found that Lee finished his round on +1. Some players are -4 still on the course so the Kiwis are a bit off the pace. Marcus Fraser from Australia is -8, that's a big gap.
Luuka Jones had a very slalom run in the final and is in silver position with one to go.
Silver for Luuka! It's great to see unexpected medals like this.
Mens track cycling sprint team qualified. Women's pursuit have just broken the Olympic record in qualifying.