All posts tagged Maori Party
Rob Hosking writes in NBR On revolt against the elites, the Maori Party & Helen Clark's UN bid (paywall), and posted an excerpt on Twitter: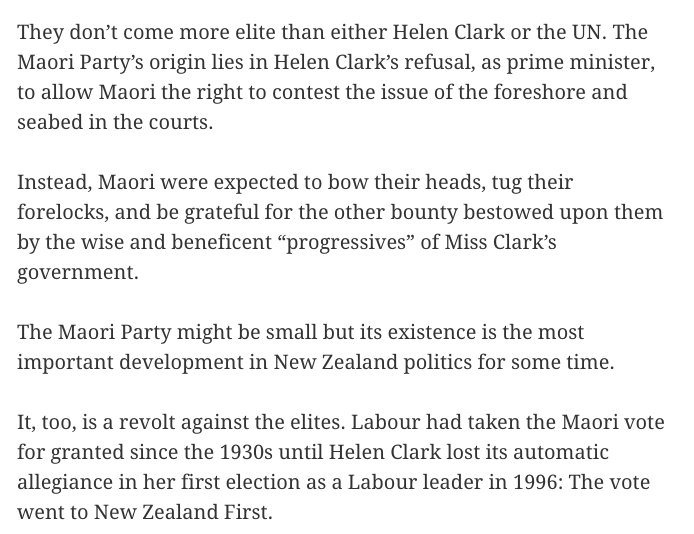 Posted by Pete George on August 7, 2016
https://yournz.org/2016/08/07/elites-maori-party-clark-un/
The Maori Party MPs have stirred a few people up by refusing to back Helen Clark's bid for the United Nations Secretary General.
Maori Party co-leader Marama Fox said today that Labour did not support the UN Declaration on the Rights of Indigenous Peoples (DRIP) and it introduced the Foreshore and Seabed Act.

Fox said on Radio New Zealand that Clark should apologise to show she had learned from her "mistakes".

"I would think at the very least somebody who is seeking the top role of the UN would also have the foresight and the ability to look back at those past mistakes, acknowledge them and move on and until she does, how can we be supportive of that role?"
Andrew Little and Winston Peters have slammed this.
Andrew Little…
…said Fox's comments were disappointing.

"Helen Clark is widely known internationally, representative of New Zealand. This a great opportunity for a New Zealander to take one of the prime roles in international and diplomatic affairs.

"Every New Zealander should be behind that and I think it, frankly, stinks that the Maori Party say they are not going to support it."
Labour have seemed to thinks that the Maori party stinks for competing with Labour for Maori votes since they split.
New Zealand First leader Winston Peters…
…says the Maori Party is being "treacherous" in saying it does not support Helen Clark's bid to become UN Secretary General.

"It is petty grand standing without any principle," he said. "the reality is the Maori Party is desperately appearing to be relevant."

"It is treacherous in the extreme," he said.
Peters may be angling for a job as Minister of Irony. Petty grand standing without any principle is something Peters should be very familiar with, if he is self aware.
Helen Clark said in a statement…
…that New Zealand fully supported the negotiations on the UN Declaration on the Rights of Indigenous Peoples.

"We asked for more time to improve the Declaration to make it fully capable of implementation in all countries.

"At that time we were concerned that some aspects of the UNDRIP cut across New Zealand's constitutional framework and legal system.

"New Zealand was however at the forefront of implementing most of the rights in the UNDRIP.

"was pleased to see that the Government was able to support the Declaration in 2010."
Te Ururoa defended the Maori Party stand on Breakfast this morning.
"There should be a part of Helen Clark that knows she needs to apologise to Maori."

"It's a contradiction for her to stand up there but to not supported the rights of indigenous people here in NZ"
And Marama Fox on the Paul Henry Show:
"We've not supported Helen Clark for a number of months…"

"We're not supporting any candidate over another.I'd love to see a Kiwi…and a woman in the position…but we just can't support @Helen4SG"

"The UN Sec General is responsible for crises across the world.. and a lot of those are indigenous matters"

"If we're going to have someone as a UN Sec General we need to have someone that understands the rights of indigenous people"
The Maori Party are free to support or not support whoever they like. Backing Clark for UN Secretary General is not compulsory in New Zealand's democracy.
Posted by Pete George on August 2, 2016
https://yournz.org/2016/08/02/maori-party-versus-helen-clark/
Media release from Labour, the Green Party and the Māori Party
---
Public invited to have say on homelessness
People who are homeless, those who were once homeless, those working with the homeless and concerned New Zealanders are being asked to share their experiences and solutions to this growing issue with the Cross-Party Homelessness Inquiry.
This inquiry was launched after National MPs turned down Opposition requests for a Parliamentary select committee inquiry into the issue.
Labour's Housing spokesperson Phil Twyford says many New Zealanders are shocked and saddened by the number of families being forced to live in cars and garages this winter.
"We want to hear from those families and the agencies working with them about the best ways to support them and reduce the reasons they lose their homes in the first place."
Green Party Social Housing spokesperson Marama Davidson says homelessness is not confined to those who sleep rough on the streets.
"There are many, many families who have no choice but to sleep in overcrowded garages, or in their cars. It hasn't always been this way in New Zealand, and it doesn't have to continue like this."
Māori Party Co-Leader Marama Fox says this issue is too important to use as a political football.
"Homelessness is a blight on our society and we need to work together to find enduring solutions. This is a valuable opportunity for us to hear more from whānau, experts and those most impacted."
Submissions will initially be heard at four locations: Te Puea Marae in Auckland, Tauranga, Wellington and Christchurch between the end of August and early September.
The terms of reference for the inquiry are:
1. Consider whether the official definition of homelessness needs updating, and recommend accordingly.
2. Assess the evidence on the current scale of homelessness, whether it is changing and how, and what the causes of that change might be.
3. Evaluate possible policy responses to homelessness, including international best practice, and recommend accordingly.
4. Consider how homelessness is experienced by different groups in society and evaluate policy responses that respond to that experience. For example, Maori experience of homelessness and Maori-led initiatives to respond
5. Hear public submissions and expert evidence, particularly from those directly affected by homelessness and their advocates, and issue a written report.
Submissions open Monday and will close on Friday, 12 August and can be sent to: Homelessnessinquiry@parliament.govt.nz
Submissions can also be made through the Labour and Green Party websites from next week.
---
A useful inquiry or futile political grandstanding?
Posted by Pete George on July 15, 2016
https://yournz.org/2016/07/15/public-inquiry-into-homelessness/
Parliament can often be seen as a morass of mundicity punctuated by gross grandstanding and bursts of bull.
But occasionally it can be entertaining. Like question 11 on Thursday. It had some typical nit-picky points of order from Trevor Mallard and Winston Peters but the latter ended up being quietly outsmarted by Te Ururoa Flavell.
This interchange has an unexpected family twist in it's tail. (Thanks for pointing this out Gezza).
---
Whānau Ora—Evidence of Outcomes
11. DARROCH BALL (NZ First) to the Minister for Whānau Ora: What evidence, if any, does he have that Whānau Ora is making any meaningful impact for Māori whatsoever other than anecdotal evidence and conversations he has had?
Hon TE URUROA FLAVELL (Minister for Whānau Ora): Actually, it is good to go and meet with the people who are actually benefiting from Whānau Ora, but I can advise the House that the evidence comes from at least 10 publicly available reports that all speak of the benefits and the outcomes achieved by the Whānau Ora approach. In phase one of Whānau Ora at least 9,400 whānau received whānau-centred services until June 2014. Since Whānau Ora commissioning agencies have been established, Whānau Ora commissioning agencies reporting on engagement and achievement as at March 2016 show that over 8,500 whānau have been supported through Whānau Ora in all sorts of ways, such as health outcomes, financial literacy, education, and economic security. There is plenty out there. I would table it, but I know that is against the Standing Orders.
Hon Trevor Mallard: I raise a point of order, Mr Speaker. It has become clear that there is a misunderstanding of the Standing Orders. The Minister can, of course, table any paper that he wants, at any stage—he is a Minister. Even if it is a public document, any Minister can table it. In fact, many of the documents Ministers do table are public. They do not require the consent of the House the way other members do.
Mr SPEAKER: And if the member seeks the leave, I have a discretion.
Hon TE URUROA FLAVELL: I raise a point of order, Mr Speaker. I have got a list of 12 of those reports. I am happy to read all of them out in order to achieve—
Mr SPEAKER: No. No, I want the point of order.
Hon TE URUROA FLAVELL: The point of order is: I wish to table these documents.
Mr SPEAKER: Are they publicly available?
Hon TE URUROA FLAVELL: They are publicly available.
Mr SPEAKER: Then I am not going to put that leave.
Darroch Ball: Why has he not commissioned or released one single independent report or economic analysis on Whānau Ora since July 2014, instead of relying upon anecdotal evidence to measure progress and outputs?
Hon TE URUROA FLAVELL: I will start by saying that a number of reports have been commissioned and are available publicly. Let us start with the Productivity Commission. I will quote the Productivity Commission, which said in its report: "The Commission finds that Whānau Ora shows much promise to tackle long-standing issues for improving Māori wellbeing. Its kaupapa Māori approach is especially important to Māori wellbeing. It has many of the characteristics required for a devolved model to promote integrated services for families with multiple, complex needs and aspirations." I have got another one—Office of the Auditor-General. I have got Ministry of Health—I have got them all.
Joanne Hayes: What announcements has the Minister made recently to support the economic outcomes for Māori?
Hon TE URUROA FLAVELL: I have more good news. Whānau Ora is committed to empowering whānau to achieve—one of its goals is better economic outcomes. Today, along with my colleague the Hon Peter Goldsmith, I was pleased to announce the allocation of $900,000—
Hon Members: Ha, ha! Paul!
Hon TE URUROA FLAVELL: Sorry, Mr Speaker. Sorry, Paul.
Mr SPEAKER: Carry on, quickly.
Hon TE URUROA FLAVELL: I raise a point of order, Mr Speaker. Firstly, I offer my apologies to my colleague Paul Goldsmith.
Mr SPEAKER: That is not a point of order. [Interruption] That is not a point of order. Now quickly bring the answer to a conclusion.
Hon TE URUROA FLAVELL: I am just pleased to announce $900,000 to improve the financial capability—
Rt Hon Winston Peters: How much?
Hon TE URUROA FLAVELL: —amongst Māori. It is more than you have got, Mr Peters, for Māori communities—$900,000 more.
Rt Hon Winston Peters: I raise a point of order, Mr Speaker. Point of order on two grounds: first of all, he cannot bring you into the debate; the second thing is I got $239 million—not like he got.
Mr SPEAKER: I am not interested in the second part of the—[Interruption] Order! I am not interested in the second part of the point of order, and for the first part I refer the member to Speaker's ruling 31/3. If I am brought into the debate—and often it is accidental—I will intervene if I need to. It is my determination, not the Rt Hon Winston Peters'.
Darroch Ball: I seek leave to table a document that has been obtained through the Official Information Act and is dated 13 August 2015. The source is Te Puni Kōkiri (TPK), and it states there are no independent reports or economic analysis commissioned by TPK.
Mr SPEAKER: Leave is sought to table that particular document. Is there any objection? There is none. It can be tabled.
Document, by leave, laid on the Table of the House.
Darroch Ball: What evidence has he presented to the Minister of Finance for Whānau Ora funding when the Government's social investment approach demands measurable data and measurable outcomes before continuing to spend taxpayers' money?
Hon TE URUROA FLAVELL: The Minister of Finance is available on the Whānau Ora Partnership Group and receives all of the reports from commissioning agencies on a quarterly basis. He receives those reports. Secondly, all of the reports from commissioning agencies are available online on the website and are public documents. Anyone can read them and there is plenty of evidence out there.
Joanne Hayes: How does the announcement support the Government's national strategy on financial capability?
Hon TE URUROA FLAVELL: Last year the Government signalled that improving the financial well-being of all New Zealanders was a priority. The upscaling of these pioneering Māori pilot programmes reinforces our ongoing commitment to this goal. We know that the Government needs to provide three things in order to steer people away from getting trapped in the cycle of debt and poor financial decisions. The three things are effective legislation, proper enforcement, and improved education. This will certainly contribute to that.
Darroch Ball: When is going to realise that Whānau Ora is a complete waste of taxpayers' money while it is not working for ordinary Māori when, for example, the number of homeless Māori in Auckland has increased by 10 percent this year alone, more than half of all homeless—
Hon TE URUROA FLAVELL: I raise a point of order, Mr Speaker. With respect, next week is Māori Language Week. My ears are little bit sore with "Maari"—I would ask the member to pronounce it properly as Māori.
Mr SPEAKER: The Minister is starting to trifle with the Chamber. The question is a provocative question, it is likely to get a provocative answer, but it has been asked.
Darroch Ball: I have not finished my question.
Mr SPEAKER: Well, the member better hurry up and finish it. To be fair to the member, I invite him to start the question again as he has now lost his continuity.
Darroch Ball: When is he going to realise that Whānau Ora is a complete waste of taxpayer money while it is not working for ordinary Māori when, for example, the number of homeless Māori in Auckland has increased by 10 percent in this year alone, more than half of all homeless in Wellington are Māori, and 40 percent of those of all those on social housing waiting lists are Māori—
Mr SPEAKER: The question is too long.
Darroch Ball: —and Māori youth—
Mr SPEAKER: Order! The question has been asked.
Hon TE URUROA FLAVELL: I will help the member. On reflection, I have a quote from a chief executive officer of at least one Whānau Ora provider from Northland who told the media in 2015: "Whānau Ora has made a substantive and positive difference to the way we are able to work with and align services"—
Rt Hon Winston Peters: I raise a point of order, Mr Speaker. This Minister was asked "when is he". It was not asked whether he could go somewhere else and seek refuge. It asked him for a personal answer, and he is not giving it.
Mr SPEAKER: The question, effectively, was "When is the Minister going to realise it is a complete waste of money?". That gives a very wide ambit for the Minister to then answer the question. Members may not like the answer they are getting; I suggest they reconsider the type of questions they ask. The Hon Te Uruora Flavell—bring the answer to a conclusion.
Hon TE URUROA FLAVELL: Firstly, I say again I reject that allegation in the first instance. Secondly, I say again—
Darroch Ball: Where's the evidence?
Hon TE URUROA FLAVELL: I will give you the evidence right now—from somebody involved in Whānau Ora. It is the chief executive officer of Whānau Ora, and they said: "Whānau Ora has made a substantive and positive difference to the way we are able to work with and align services to meet the needs of the people," That person was Lynette Stewart, the Rt Hon Winston Peters' sister.
Rt Hon Winston Peters: I raise a point of order, Mr Speaker. [Interruption]
Mr SPEAKER: Order! I am just waiting until I can hear it in silence because I am sure it is going to be interesting.
Rt Hon Winston Peters: Every family has a member who loses their way.
Mr SPEAKER: And some families have more than others.
Joanne Hayes: What further reports has he had in relation to Whānau Ora's success in Northland?
Hon TE URUROA FLAVELL: I have pretty much given the evidence. As the honourable member just said, there is evidence around, and the evidence is the statement I just gave to the House—that the Rt Hon Winston Peters' sister was a chief executive officer of a provider of Whānau Ora.
Posted by Pete George on July 2, 2016
https://yournz.org/2016/07/02/evidence-of-outcomes-on-whanau-ora/
Clare Trevett suggests that Labour should Be careful what you wish for
After five years as the Invisible Man's doppelganger, Te Tai Tonga MP Rino Tirikatene has finally broken out.

The trigger was the Budget tax on smoking. His chosen dance floor was Twitter. In person, Tirikatene is a shambling, genial, diffident character. It was akin to watching the Incredible Hulk hulk out.
Tirikatene came to athe attention, including me – see Rino Tirikatene on Twitter
He started by saying the Maori Party "are slowly turning Aotearoa into a kuia state". On and on he went, using the hashtag #kuiastate (Nanny State) for each tweet.

He was only goaded further when Maori Party co-leader Marama Fox pointed out that Labour was in fact voting for this "kuia state" measure.
The reason for the flurry was a prod from his leader to lift his game. He did it so effectively he ended up being told to rein it in again.

Labour might want to be careful what it wishes for. At the moment, the Maori Party is the enemy because it is in Government. Even worse, it is in Government with the National Party.

Yet the Maori Party could end up being the solution to a tricky problem for Labour. There are scenarios in which the Maori Party could give Labour and the Greens the extra numbers they need to get into Government without having to go to Winston Peters. Andrew Little could well find himself bracing to knock on the Maori Party's door, come 2017.
The Maori Party could end up 'holding the balance of power', in which case it's probably likely they would choose to go left rather than right.
But it could get complicated for more than Labour.
If both the Maori Party and NZ First were needed together to form a majority coalition would NZ First accept an arrangement like that? Would National or Labour?
Would NZ First accept being in a coalition arrangement with either the Maori Party or the Greens?
Many convolutions are possible come the election next year.
However Labour must have a very complicated strategy.
They want to wipe out the Maori Party and take them out of the coalition equation. And pick up their votes.
They want to take NZ First out of the coalition equation. And pick up some of their votes.
But they may end up having to go to either or both parties in order to put together the numbers that would enable them to form the next government.
Abusing the hell out of them now may make things quite complicated later.
Posted by Pete George on June 11, 2016
https://yournz.org/2016/06/11/abuse-the-hell-out-of-them/
The Maori Party MPs generally go about their work quietly without attention seeking and over egging of stories like some other MPs and parties.
While supporting a National led coalition government the Maori party MPs more often than not vote against National in Parliament.
They have been quietly working on trying to address housing issues. Marama Fox was involved in getting Paula Bennett to consider extra funding for the Te Puea Marae to assist with emergency housing.
Newstalk ZB: Maori Party: Marae helping with homeless problem isn't a long-term solution
Social Housing Minister Paula Bennett will meet with the chairman of Te Puea Marae today, and is considering giving them a funding injection to help their efforts dealing with homeless people.

Maori Party co-leader Marama Fox said extra money for the Marae will be welcome, but the situation still isn't good enough.

"So it's good that they do it. It's not good enough that the Government have been caught out in this situation and there are not enough beds. There is a rising problem."

Ms Fox said there needs to be a plan for the future.

"The marae don't want to be the provider – they want these people to be housed and homed in secure permanent homes, so it's a stop gap measure they have indicated they don't want to go past winter."

She said the marae "don't want to be the provider – they want these people to be housed and homed in secure permanent homes", but are only a stop gap measure, not meant to go past winter.
Newshub: Maori Party fighting housing crisis 'on all fronts'
The Maori Party says it is struggling to get Government ministers to act on the housing affordability crisis enveloping much of the North Island.

Maori and Pacific Islanders have been hit the hardest, and Maori Party co-leader Te Ururoa Flavell says his party is "fighting it on all fronts".

"It's a long-term game, it's something that we want to plan for a lot better. But there are certain conditions you cannot change, and that's the high cost of houses, not enough houses being available for people to move in to, a change of rules, access to finance, access to land."

The governing National Party, which has consistently denied there is a crisis, says the fix for housing affordability is freeing up land so more houses can be built. While it might help in the long run, it doesn't help people struggling to buy a home right now — or simply put a roof over their heads.

"We've sort of turned a [blind] eye to it, believing that it can't happen in Aotearoa. But the mere fact a marae has just recently opened its doors to house people has put it fairly and squarely on the map."

He wants more done now to help those in need.

"I think we're making progress, but obviously not enough progress against the background of those who aren't able to move into home ownership and those who are suffering from homelessness."
The Maori Party are a bit like the Salvation Army of politics – sleeves rolled up working hard for their constituents without fanfare or attention seeking.
Unfortunately for them that affects their support levels.
Posted by Pete George on June 11, 2016
https://yournz.org/2016/06/11/maori-party-quietly-working-on-housing/
The Maori Party wants law change that requires Maori wards on every district council in New Zealand.
NZ Herald: Maori Party calls for law change
Co-leader Te Ururoa Flavell will present a petition to Parliament at the urging of New Plymouth mayor Andrew Judd, who championed the creation of a Maori ward in his city – a move blocked by a public vote last year.

Under existing legislation, councils can choose to establish Maori wards. However, if 5 per cent of voters sign a petition opposed to such a move, the decision then goes to a binding referendum.

Mr Flavell said mandatory Maori wards on every council would give tangata whenua better representation at local government, and would better reflect the make-up of communities.

"Everyone is aware of the low participation of Maori in local government and the existing legislation is clearly inadequate," he said.

"A change is long overdue. The fact that 5 percent of the voting public can challenge any decision related to Maori representation is disheartening and means Maori will almost always be defeated in this process. How is it fair that mechanisms such as these can apply?"
This would be likely to be highly controversial in some districts.
Another approach would be for the Maori Party and other Maori groups to encourage more Maori candidates and help improve the quality of Maori candidates, giving them more chance of being elected under the existing system.
And to find ways of motivating more Maori to vote. That's a challenge especially in local body elections where voter interest usually struggles, but there is opportunities for special interest groups – like Maori groups – to organise far better and get better candidates to stand.
Posted by Pete George on April 10, 2016
https://yournz.org/2016/04/10/maori-wards-on-every-district-council/
MMP has worked well on the Employment Standards Legislation bill, with the very contentious zero hour contract provision being scrapped after negotiations and agreement with all parties except ACT.
The Government has called the changes minor while Labour and Greens are claiming a major victory. It was just MMP working as it should with most parties finding common ground they could agree with.
The Government was forced to negotiate changes after the Maori Party and Peter Dunne refused to support the original bill.
The bill passed a committee stage vote in Parliament yesterday 120 votes to 1 (Seymour).
Radio NZ: Green light for zero hours ban
As part of the deal to get the bill over the line, National and Labour struck a deal which means zero hours contracts will soon be a thing of the past.

The Employment Standards Legislation Bill is currently before Parliament, but must be passed before 1 April so the extension to paid parental leave can take effect.

The government yesterday said it would agree to support a Labour Party amendment which Labour said put in concrete that zero hours contracts would be banned.
Workplace Relations Minister Michael Woodhouse said Labour's support wasn't essential:
But Workplace Relations Minister Michael Woodhouse said the government would have got the numbers without Labour.

During the debate on the legislation, Mr Woodhouse told the House that getting the bill to a place where everyone could agree had been no mean feat.

Mr Woodhouse said the difficulties arose from getting the wording right and the fact that the term zero hours had no formal legal definition.

"Well I'm quite confident we'd have got the Maori Party over the line, they know how important this bill is for their people, particularly around paid parental leave for whangai, and I'm satisfied I was going to be able to get them over the line on zero hours as well."
The Maori Party claim credit:
Maori Party co-leader Te Ururoa Flavell said actually it was the hard work of his party that sealed the deal.

"It's taken a fair bit of work sitting beside the minister, to work through some of the detail of it, particularly around the zero hours and I think we got to the right place.

"That's important obviously they needed the votes and our votes have come in to be quite important but Labour has jumped on the bandwagon afterwards."
Labour still claim a major victory:
Labour Party leader Andrew Little said New Zealand workers could now rest assured that they could not be compelled to turn up to work with no guaranteed hours.

Labour proudly took credit for forcing the changes, he said.

"This is a significant change in this piece of legislation. This government introduced legislation that would have entrenched the idea that an employer could tell a worker 'you must turn up to work and I don't have to give you work and you must meet all the costs of that'.
As do the Greens:
The Green Party was the only party that voted against the bill at first reading. Co-leader Metiria Turei said it could now support the legislation with the amendments.

"It is a massive win for workers, for unions and for those of us who worked to get rid of zero hours contracts, and a massive backdown for the government."
Regardless of the political points claiming Woodhouse deserves credit for getting near unanimous support for what had been a very contentious bill.
But all the politicians were doing what should be their normal jobs.
The biggest winners are MMP and the people of New Zealand.
Parliament: The committee stage of the Employment Standards Legislation Bill was completed. The bill was divided into the following bills:
Parental Leave and Employment Protection Amendment Bill
Employment Relations Amendment Bill (No 3)
Holidays Amendment Bill
Minimum Wage Amendment Bill
Wages Protection Amendment Bill
Posted by Pete George on March 9, 2016
https://yournz.org/2016/03/09/zero-hour-contracts-lose-mmp-wins/
What are party prospects leading up to next year's election? It's a long time in politics until we vote again so there's many things that could affect the overall outcome and the outcome for individual parties.
Has Been and Never Been
The 5% threshold is making it pretty much impossible for a small or new party to get into Parliament on party vote. This is by design by the large parties, successfully keeping small parties shut out.
Mana Party
Mana took a punt on Kim Dotcom's big money last election and crashed badly, losing their only electorate and failing to attract combined party vote. Hone Harawira seems to have disappeared from public view, and the Mana Party website seems to have also disappeared. Their chances of revival look unlikely, and their chances of success again are also unlikely.
Internet Party
The Internet Party had large funds and little credibility last election. Dotcom acknowledged afterwards that he was politically toxic. Without his money and presence and media pulling power the party continues – their website remains – but is ignored and will find it difficult to get anywhere, which is a shame because they had some interesting ideas on inclusive democracy.
Conservative Party
With heaps of money and media attention last election Colin Craig and his Conservatives could only manage about 4%. After last year's major upheaval it's unlikely they will get half that next time. Craig is severely damaged politically and socially and would struggle to lead the Conservatives to 2% next time. There is no obvious alternative leader.
The Strugglers
UnitedFuture
As a party UnitedFuture has faded just about completely. It is still operating but without a major input of money and new personal I don't see any change. The only option for UF is for outsiders to see an opportunity to use an existing party to get a foothold in Parliament rather than start from scratch, but even then success would be dependent on Peter Dunne  retaining his Ohariu electorate. I think Dunne must be close to considering retiring, and if he does UF will retire or expire.
ACT Party
ACT have defied critics and survived the Don Brash and John Banks disasters due to the success of one person, David Seymour. I think Seymour is odds on to retain Epsom next year (deservedly) so ACT is likely to survive. National and possibly Conservative vote must be up for grabs, but it will depend on ACT coming up with additional electable candidates to make an increased party vote attractive. Jamie Whyte didn't work out, but with Seymour anchoring the party they may attract strong candidates who would then stand a good chance of success through an improved party vote.
Maori Party
The Maori Party continue to be quiet achievers. They should be able to retain at Te Ururoa Flavell's electorate seats and their first list MP Marama Fox has made a quick impact. They stand a chance of picking up ex Mana Maori votes so have some chance of getting more seats via their list. Further electorate prospects will depend on candidate quality. The Maori Party could also be impacted negatively by a Labour resurgence if that ever happens.
The Over Threshold Parties
New Zealand First
It's difficult to predict NZ First's future. It is very dependant on Winston Peters. He had a major success early last year by winning the Northland buy election but hasn't dome much since then. He could just be pacing himself, rebuilding energy and drive for next year's election campaign. Or he could be running out of puff – that's been predicted before but so far he has managed to keep coming back.
Installing Ron Mark as deputy could be a problem for NZ First. The rest of the party has been generally out if sight, but Mark is an ambitious attention seeker, and the attention he gets is often uncomplimentary. He could deter voters.
But if Winston remains NZ First should remain after next year's election. Peters may or may not retain Northland, but the party should be good for 5-10% party vote if he is still in the race.
Green Party
The Green Party have successfully weathered another leadership change. They had built their vote and presence but were disappointed to not gain ground last election despite Labour's vote shrinking. Greens are assured of retaining a place in Parliament but may find it challenging to increase or even retain their current numbers if Labour recovers and increases their vote. And Greens need Labour to improve substantially to give them a chance of having their first stint in Government.
Greens should be able to stay above 10% but may be cemented as a good sized small party rather than becoming the growing force they have ambitions of being.
Labour Party
Labour have to improve their support significantly or it will either be difficult for them to get back into Government or it will be difficult for them to govern with Greens and NZ First pulling them in different directions, possible apart.
It would be unlikely for Labour to switch leaders yet again, that would be damaging, so they need Andrew Little to step up. That hasn't happened yet. They are playing a risky strategy of keeping a low profile while they consult constituencies and rebuild policies. They really have to be looking like a possible alternate Government by the middle of this year. They need to somehow get back 5-10% support.
They are banking on Little growing into his leadership role. He can only be a contrast to John Key, but so far he looks more out of his depth rather than swimming competitively on the surface.
Labour are also banking on their 'Future of Work' policy development. It's a good focus for a labour allied party, but a lot will depend on whether it results in something seen to be visionary or if it is perceived as a Union policy disguised by Grant Robertson.
Labour could get anywhere between 25% and 40% next election. It's hard to tell what direction they will go at this stage.
National Party
National have been very successful since they won in 2008. They have increased their support since then, most parties in power bleed support. This partly to do with John Key's continued popularity, and increasingly by Bill English's capable management of finances in sometimes very difficult circumstances (GFC and Christchurch earthquake).
National's support must fall at some stage but it's difficult to judge when that might start happening. Left wing activists have been predicting it in vain for seven years. Much will  depend on whether Labour can step up as a viable alternative alongside Greens and probably NZ First.
Next election could see them get anywhere between 40% and 50%. Their political fate is in their own hands to an extent but also reliant on possible alternatives.
Posted by Pete George on January 22, 2016
https://yournz.org/2016/01/22/party-prospects/
There has been accusations for a long time that the Labour Party claim ownership of a majority Maori vote but don't pay that back with adequate positions of influence.
And there are arguments about whether Maori MPs in Labour measure up in ability and work ethic against their non-Maori colleagues.
The Maori Party split from Labour in 2004 to give the Maori vote more political voice and power.
Maori Party leader Te Ururoa Flavell has given some of his voice to how Maori have fared in Labour's reshuffle.
Claire Trevett in Maori Party weigh in on Labour's reshuffle
Maori Party co-leader Te Ururoa Flavell has weighed into the debate over Labour's reshuffle, saying Andrew Little's treatment of the Maori MPs and description of Ratana celebrations as "a bit of a beauty parade" treated Maori with disdain.

Mr Flavell said despite all the "noise" about the promotion of Kelvin Davis, Mr Davis had only moved up one place, the highest ranked Maori was now at seven instead of four, three of the seven Maori MPs were in the bottom ten, and Adrian Rurawhe was only one spot above Phil Goff, who will leave Parliament if he wins the Auckland mayoralty.

"It seems to me that Labour are happy to pocket Maori votes at election time but once they're in Parliament they seem to be put in their place."
A common complaint aimed at Labour.
Mr Flavell said Mr Little's description of the annual pilgrimage of politicians to Ratana as "a bit of a beauty parade" was an indication of Mr Little's attitude toward Maori.

"On the face of it it's pretty demeaning. It shows how little he values tikanga Maori and in particular the historical political alliance between Ratana and Labour.
But a Labour MP backs up his leader:
However, Te Tai Hauauru MP Adrian Rurawhe, who is the great grandson of TW Ratana, backed up his leader, saying it was true that the politicians' day was "a bit of a showpiece" and more constructive discussion happened outside that day.

"I think he's incredibly honest and it is a bit of a showpiece for Ratana and for the politicians.

Rurawhe was ranked 31 out of 32 by Little so needs to do a lot to be seen as valued in Labour. Like praise his leader.
He is one of four Maori MPs in the bottom six in Labour's new pecking order, The other two are Phil Goff who has signalledintent to resign next year and David Cunliffe who seems to have been given the message to leave the Labour ship.
Labour's Maori MPs and their Trans-Tasman ratings for 2015:
7. Kelvin Davis – 6
Is getting the hang of how to use the media and register some hits. Gets up the PM's nose, and has a social conscience. Did he pick the right cause re deportation of criminals from Aust? Is ready to be thrown into the attack and relishing it.
12. Nanai Mahuta – 4
An enigma. Many would say she does nothing, others would say she plays a vital role in helping Labour hold on to Maori support.
20. Meka Whatiri – 3
Has been making a bit more noise on water issues, but must cut through the chatter.
22. Peeni Henare – 3
Has the political pedigree and is a worker behind the scenes, but needs more public wins and so far hasn't stepped up with anything memorable.
27. Rino Tirikatene – 2
Another MP going nowhere fast. No prospect of advancement. Should look to his future.
29. Poto Williams – 4
Labour internal party politics hurts her. Is preferred local Labour MP for businesses wanting a serious conversation.
30. Louisa Hareruia Wall – 4.5
Has been stymied from shining due to factional politics. Is progressive and works well on cross party issues. Still has potential.
31. Adrian Rurawhe – 3.5
Makes a contribution to the committee stages of Bills – serving his apprenticeship.
So apart from Davis Trans-Tasman rate the Labour MPs differently to Andrew Little. It would be interesting to see them rated from a Maori persepctive.
It's worth noting that aspiring Maori politicians also stand for parties other than Labour and the Maori Party.
Winston Peters leads NZ First (who have 3 other Maori MPs).
Metiria Turei co-leads the Green Party (two other Maori MPs and the Greens strongly promote Maori issues).
National's top ranked Maori MPs:
5. Paula Bennett – rated as a future prospect for National leader
10. Hekia Parata
Posted by Pete George on December 2, 2015
https://yournz.org/2015/12/02/maori-party-versus-labour-reshuffle/
Posts

Search this blog:

Recent Comments

Meta

Archives

RSS Links