No green men (or green women or LGBT) yet, but another scientific discovery on Mars that suggests some form of life could exist or could have existed.
Using radar the European Space Agency's Mars Express has discovered liquid water 1.6km deep beneath the south polar region of Mars.
ESA: Mars Express Detects Liquid Water Hidden Under Planet's South Pole
Radar data collected by ESA's Mars Express point to a pond of liquid water buried under layers of ice and dust in the south polar region of Mars.

Evidence for the Red Planet's watery past is prevalent across its surface in the form of vast dried-out river valley networks and gigantic outflow channels clearly imaged by orbiting spacecraft. Orbiters, together with landers and rovers exploring the martian surface, also discovered minerals that can only form in the presence of liquid water.

Early results from the 15-year old Mars Express spacecraft already found that water-ice exists at the planet's poles and is also buried in layers interspersed with dust.
The presence of liquid water at the base of the polar ice caps has long been suspected; after all, from studies on Earth, it is well known that the melting point of water decreases under the pressure of an overlying glacier. Moreover, the presence of salts on Mars could further reduce the melting point of water and keep the water liquid even at below-freezing temperatures.

But until now evidence from the Mars Advanced Radar for Subsurface and Ionosphere Sounding instrument, MARSIS, the first radar sounder ever to orbit another planet, remained inconclusive.

Ground-penetrating radar uses the method of sending radar pulses towards the surface and timing how long it takes for them to be reflected back to the spacecraft, and with what strength. The properties of the material that lies between influences the returned signal, which can be used to map the subsurface topography.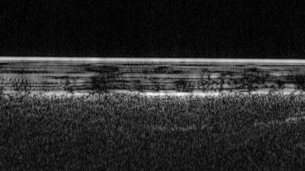 The radar investigation shows that south polar region of Mars is made of many layers of ice and dust down to a depth of about 1.5 km in the 200 km-wide area analysed in this study. A particularly bright radar reflection underneath the layered deposits is identified within a 20 km-wide zone.

"This subsurface anomaly on Mars has radar properties matching water or water-rich sediments," says Roberto Orosei, principal investigator of the MARSIS experiment and lead author of the paper published in the journal Science today.

"This is just one small study area; it is an exciting prospect to think there could be more of these underground pockets of water elsewhere, yet to be discovered."
Mars Express launched 2 June 2003 so has been in orbit for nearly fifteen years. This is an impressive mission.
If you want to have a look for yourself, Mars will be at it's closest to Earth soon.
This year, the Red Planet will come the closest to Earth it will be for the next 17 years, making it bigger and brighter than usual.

Both Earth and Mars follow elliptical (oval-shaped) orbits around the Sun. Because Earth is closer to the Sun than Mars, it speeds along its orbit more quickly than the Red Planet. We take two trips around the Sun in about the same time it takes Mars to take one! When Earth lines up directly between Mars and the Sun, we say that Mars is in opposition.

This happens every two years or so, and this year will occur on 27 July. Mars perihelion is the point when the planet is closest to the Sun in its orbit. When this occurs within a few weeks of opposition, we get a perihelic opposition and Mars appears bigger and brighter than usual.

These perihelic oppositions are not nearly as common, happening only every 17 years or so. The last one was in 2003 and the next chance to spot Mars this close won't be until 2035. The closest approach will occur on 31 July.

However, viewing Mars during this exciting celestial event is not just restricted to the 27th or 31st of July…you will still catch superb views for about six weeks on either side of the date of opposition. Throughout July and August, Earth and our neighbour in space will only be around 58 million kilometres apart.
Mars is visible (if there's no clouds) throughout the night.It wil be one of the brightest objects in the sky, and is red tinged. There's a massive dust storm on Mars at the moment so that helps reflect light, but will make it harder to see the lake.
See for planet viewing times: https://www.timeanddate.com/astronomy/night/new-zealand/dunedin