On average, migrants make up 13% of the population in OECD countries, up from 9.5% in 2000 – a significant increase.
Some interesting comparisons here.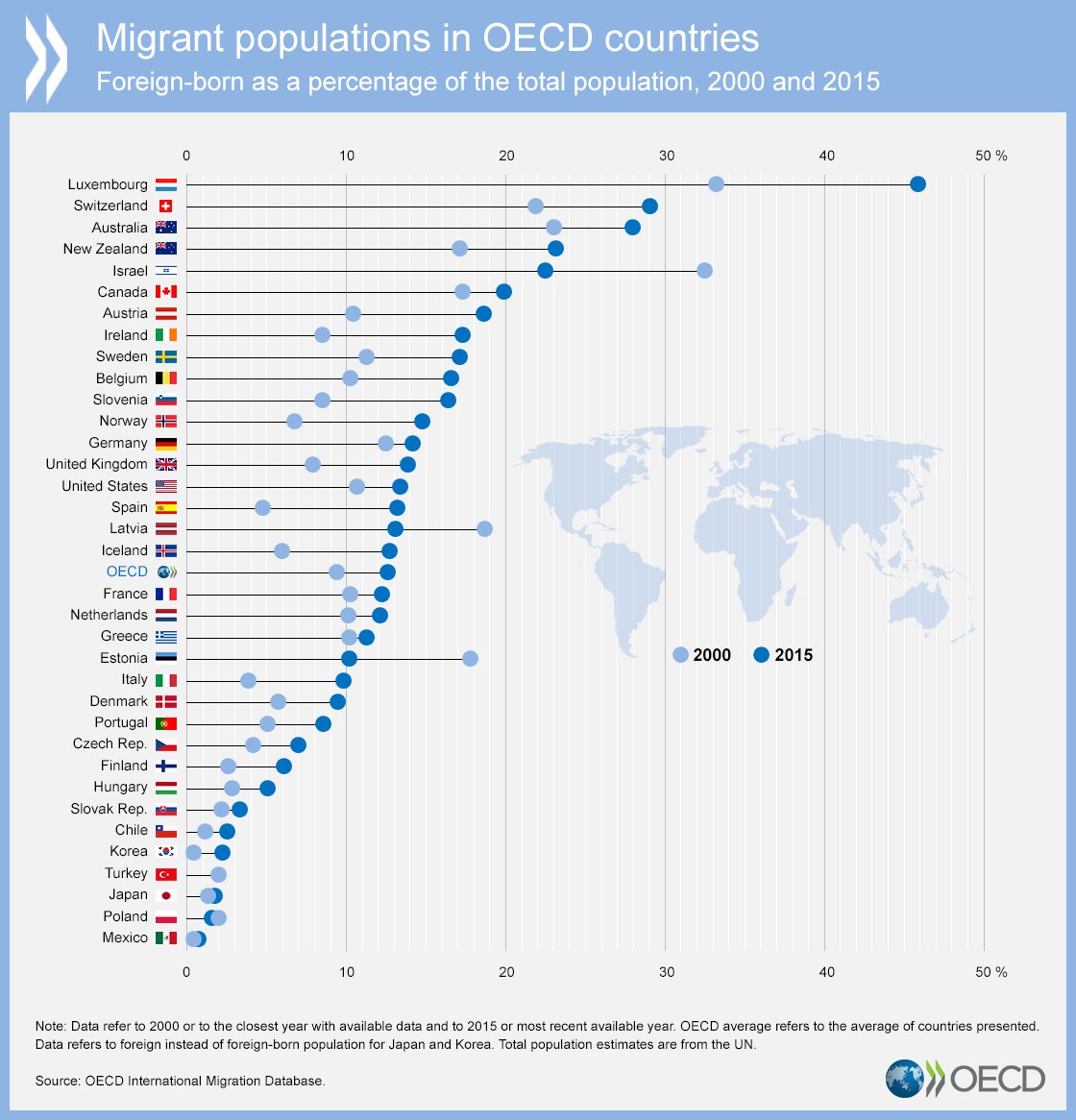 Not surprising to see Australia and New Zealand near the top.
Surprising to see Switzerland so high.
NZ Herald: Ex pats are choosing New Zealand over Australia as emigration destination
Could beautiful pictures of New Zealand on social media be luring ex pats here instead of Australia?

The latest report from international relocation experts Movehub could be suggesting so.

The report shows for the first time since 1991 more Australians are moving to New Zealand than the other way round, and searches online for moving to New Zealand from the UK have surged upwards.

Australia has seen a five per cent decrease in people moving there.

The report has attributed the rise in New Zealand's popularity to its economy, scenery, sense of community, and "the Trump and Brexit effect".

"The EU Referendum was one of the most controversial political events of 201 and its outcome has had global repercussions," head of Movehub, Ben Tyrrell said in the report.

"There was no shortage of political drama in the US this year either."

Moves to New Zealand from the US grew by 71 per cent in November 2016.

But New Zealand has more to offer than simply an escape from Trump, the report said.

"New Zealand's economy is another contributing factor for the surge in immigration; it continues to perform strongly whilst Australia's mining boom dwindles, pushing up prices and encouraging yet more Australians to seek a cheaper cost of living across the Tasman.

"Though Australians may be moving to a well-known neighbour, Americans and Britons are relocating to a country half a world away, however it is clear that the distance pales into significance for the chance to live somewhere so beautiful with such a strong sense of community."

New Zealand is ranked as the seventh most popular destination country, but the eighth highest country people are leaving.

Despite this, searches for moving to New Zealand from the UK were up 83 per cent in the 2016/2017 financial year compared to the previous one.
Migration patterns keep changing, but the Internet makes it easier for people who want to move countries to check distant countries out.