Pete Hoekstra, the Trump appointed US ambassador to the Netherlands, is getting some awkward publicity.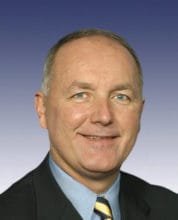 Stuff:  Donald Trump's new ambassador to the Netherlands caught lying about his own lies
A Dutch journalist has asked new US Ambassador Pete Hoekstra why he said there were "no go" areas in the Netherlands, where radical Muslims are setting cars and politicians on fire.

Hoekstra denied it, and called the claim "fake news".
A standard Trumpian response.
The report cut to a video clip of Hoekstra at a 2015 conference hosted by the David Horowitz Freedom Center saying:

"The Islamic movement has now gotten to a point where they have put Europe into chaos. Chaos in the Netherlands, there are cars being burned, there are politicians that are being burned."

"And yes, there are no-go zones in the Netherlands".

When the reporter pressed, Hoekstra denied using the term "fake news", which he'd uttered moments before.

"I didn't call that fake news," he said. "I didn't use the words today. I don't think I did."
The odds of Hoekstra being controversial were always high.
Though Hoekstra was born in the Netherlands, his family immigrated to Michigan when we was a toddler.
A bit ironic given:
He served as a Republican congressman for a decade-and-a-half, eventually chairing the US House Intelligence Committee.

In that time, he adopted several positions that are at odds with core Dutch values. Hoekstra is opposed to same-sex marriage and gay rights. In the US Congress, he voted repeatedly to limit women's rights to abortion. He supports the death penalty, and has argued passionately that refugees are a threat to European security.

Hoekstra has given several talks at the anti-Islam American Freedom Alliance, which has also hosted Dutch far right leader Geert Wilders. In 2015, Hoekstra blamed a "secret jihad" for the "chaos" in the Netherlands.
So he was always going to be controversial as an ambassador.
After Trump announced Hoekstra's appointment, Dutch newspaper de Volkskrant observed that Trump "put a Dutchman in the Netherlands – but it is a Dutchman from the Netherlands of the '50s".

Of the appointment, liberal politician Sophie in't Veld said: "We are looking forward with interest to co-operating with Mr Hoekstra.

We will certainly remind him his roots lie in a country that values tolerance, equality and inclusion … we expect the representative of our friend and ally the United States to fully and wholly respect our values and to show that respect in all his acts and words."
Hoekstra has apologised, sort of.
He only refers to "remarks in 2015" without qualification, defends being "passionate about confronting the global threat of terrorism",  and "regret the exchange" shows more concern about being embarrassed, with a very lame apology tacked on.
It's a Clayton's 'I'm sorry I got found out' sort of non-apology.
The appointment of Hoekstra is another example of jobs for loyal supporters of Trump, which is at odds with the 'drain the swamp' goal, unless Trump meant 'drain the swamp and refill it with my own lackeys.
Detroit Free Press: President Donald Trump nominates U.S. Rep. Pete Hoekstra to be Dutch ambassador
President Donald Trump on Monday evening nominated former U.S. Rep. Pete Hoekstra of west Michigan to be his ambassador to the Netherlands, selecting for the job to a key supporter in a state that helped elect Trump.

During the 2016 campaign, Hoekstra became a key surrogate for Trump and his outsider bid to become president, appearing on cable TV in support of him and introducing him at a large rally at the Freedom Hill Amphitheater in  Sterling Heights the weekend before the election last November.

In announcing Hoekstra's nomination the White House praised him as "a prominent politician" and said he "continues to be active on public policy issues and in business affairs as a consultant, researcher, and writer."
Hoekstra has a bit to learn about diplomacy.
U.S. Rep. Fred Upton, R-St. Joseph:

"The administration made a wise decision by picking Pete, with his long-established Dutch roots and heritage," He is exceptionally qualified and will make a tremendous ambassador. Pete's always had a passion for public service and a way of connecting with people that will continue the fruitful relationship we've long-enjoyed with The Netherlands."
His way of connecting with people in The Netherlands needs a bit of refinement.