All posts tagged Phil Goff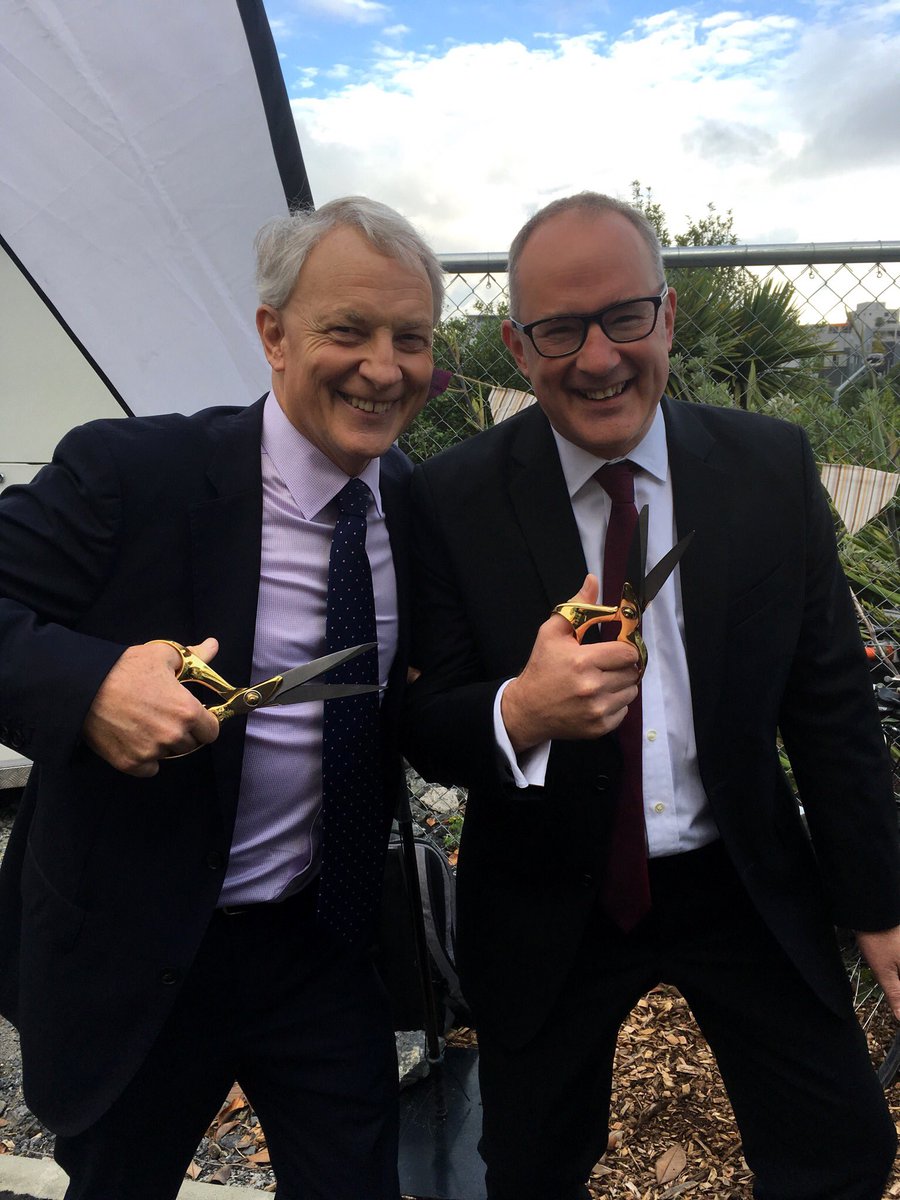 Posted by Pete George on November 30, 2018
https://yournz.org/2018/11/30/the-scissors-bros-phil-and-phil/
To people without cars. This could make Auckland's Queens Street a more attractive destination. Perhaps it is targeting tourists more than suburban Aucklanders.
I have no idea what downtown Auckland is like these days, I have avoided going there since getting charged over thirty dollars for a few hours parking over a decade ago.
Maybe it will revive and thrive as a pedestrian mall, as long as there are plenty of bike stands or cruise ships.
Posted by Pete George on November 28, 2018
https://yournz.org/2018/11/28/were-opening-up-queen-street-to-people/
There has been a lot spoken and written about free speech in New Zealand lately, sparked by the visit of Canadians Stefan Molyneux and Lauren Southern. Most people seemed to see them as extreme-ish agenda driven attention and money seekers,  with many people supporting their right to speak here but not agreeing with what they said or did much.
The cancellation of a political event at Massey University this week that as going to feature Don Brash was widely (not quite universally) condemned. Brash got far more publicity over that and a at a debate at Auckland University on Thursday than he would otherwise have got.
But what is free speech in New Zealand?
Lizzie Marvelly has a go at explaining (it's a column worth reading, one of her better ones in a very mixed portfolio) in Why can't I escape Don Brash?
What has become overwhelmingly clear in the midst of the tide of hysteria and hyperbole is that there are many people who don't really grasp the true meaning of free speech. Having the freedom of speech just means (with a few exceptions, such as in matters of national security and hate speech) that the state doesn't have the right to prevent citizens from expressing themselves or punishing them if they do. It can't throw people in jail for speaking out against the Government, or to prevent them from speaking out.

Free speech doesn't mean everyone has the right to speak in whatever venue they please. It doesn't mean that people who disagree with a speaker can't argue or protest. It doesn't mean that people can say vile, violent and inflammatory things without fear of prosecution. As the person who wrote to Massey's Vice Chancellor alluded to, just because we have the right to free speech, it doesn't mean we won't face consequences for what we say.
This doesn't address the issue of a politician like Phil Goff trying to dictate whose views could be expressed at an Auckland Council owned venue. Nor does it address the considerable concerns over Jan Thomas deciding which ex-politicians should be effectively banned from speaking at a Massey University student political society event. But those issue shave been well covered already.
Dr Oliver Hartwich (NZ Initiative): Freely speaking
Since New Zealand just had to discuss the meaning of free speech, perhaps it is worth defining what free speech is. And what it is not.

Absent a written constitution, let us turn to Article 19 of the Universal Declaration of Human Rights for guidance. It states: "Everyone has the right to freedom of opinion and expression; this right includes freedom to hold opinions without interference and to seek, receive and impart information and ideas through any media and regardless of frontiers."

As strong as this sounds, this provision only confers an individual right to hold and express opinions. It compels no one else to share, promote or publish them. And this, more than anything else, is the fundamental misunderstanding in our recent debates.
Again this doesn't address Goff's apparent involvement in deciding who could use a venue based on what he thought they might say.
Even Massey University's banning of Don Brash's speech is, strictly speaking, not a case of restricting free speech. Within hours of being uninvited, Dr Brash's manuscript was published on the Herald's website, and he could explain himself on radio and TV. That is hardly a case of effective censorship. And universities, too, can lawfully determine how their resources are used.

The real scandal of banning Dr Brash lies elsewhere. By uninviting Dr Brash, Massey University has not been true to its own values. Massey's Charter commits it to promoting "free and rational inquiry". That is what the very idea of the university is all about.

If universities cannot tolerate dissent and the free exchange of heterodox views, they cease to be universities. It would make them indoctrination camps.

In short: Freedom of speech is important. Not every restriction of expression is objectionable. And universities must remain true to ideals of academic inquiry.
Everyone is free to speak to themselves by their own means. Beyond that there is no guarantee others will listen or will provide a means to speak.
But there is a need for politicians and universities to be impartial and unobstructive when making decisions on who can speak in their domains, and to do that they need to risk erring towards allowing speech. They cannot know what will be said in advance of an event.
here at Your NZ free speech is very important, but not absolute. I need to make decisions to protect this site from legal actions, and I also choose to protect speakers here and targets of opinions from unnecessary abuse and attacks. It's imperfect but well-intentioned for the good of both speech in general but also of the community here.
Posted by Pete George on August 11, 2018
https://yournz.org/2018/08/11/what-is-free-speech-in-a-new-zealand-context/
The Free Speech Coalition was formed after Auckland mayor Phil Goff said he wouldn't allow two right wing Canadians to speak at any council owned venue, and Auckland Live cancelled their booking. $50 thousand was raised, and now papers have been filed in court.
---
The Free Speech Coalition has now filed proceedings against Mayor Goff and Auckland Council under the New Zealand Bill of Rights Act.
This came after the Coalition presented the Mayor with an open lettersuggesting he avoid the cost of litigation by reopening discussions with the promoters of the event in question.
The open letter outlined:
• The Council declined to discuss security concerns with organisers or Police prior to Phil Goff's tweet.
• There was no time pressure justification for the Council's sudden, uninformed decision.
• So far no privately-owned venues in Auckland have been found to be available or suitable in such a short time frame.
• In Australia, all but one of the venues hosting the speakers are owned by local councils or state government. There is no reason for Auckland to be an outlier.
• The Council has left the Coalition with no other option but to seek urgent judicial relief.
The Coalitions gets the impression the Mayor is eager for the Police to say they can't uphold their duty to keep the piece and protect free speech – a sad contrast with Australia that we never expected.
Coalition member Melissa Derby says, "The Council's arbitrary and uninformed decision making process suggests bias, prejudgment, and indifference to the fundamental freedoms outlined in the New Zealand Bill of Rights Act. It's regrettable to see the Mayor digging his heels in when we have given him every opportunity to reconsider and avoid litigation costs."
David Cumin, a member of the Coalition and also a plaintiff in the proceedings, says, "Despite his earlier tweets, Mr Goff now claims it wasn't about banning the speakers because of their political views, but about safety. What he risks is delivering a 'heckler's veto', where potential protesters get to decide who Aucklanders can hear from or associate with."
"This action is to ensure that politicians and officials aren't allowed to discriminate against views they dislike when it comes to ratepayer-funded venues, regardless of how broadly 'unacceptable' the views might be."
The plaintiffs in this action are:
• Axiomatic Media – the promoters of the Southern/Molyneux event.
• Malcolm Bruce Moncrief-Spittle – a bookseller living in Dunedin.
• David Cumin – an Auckland ratepayer and member of the Free Speech Coalition.
The defendants are:
• Regional Facilities Auckland (Auckland Live)
• Auckland Council
• Mayor Phil Goff
The statement of claim and application for urgency and interim orders are available here and here.
---
There is plenty of counter ammunition being found in relation to members of the Coalition having dubious free speech positions in the past, but that shouoldn't preclude them for championing principles of free speech now.
There is an interesting legal point here – whether a democratic local body should choose who can't use public facilities based on opinions on what might be said in the future.
It can also be argued that it's a waste of money, especially council money, taking it to court, but legal action is an option in our relatively free society, so that's a choice open to whoever wants to do it – at risk of costs being awarded against them if they fail.
Posted by Pete George on July 18, 2018
https://yournz.org/2018/07/18/free-speech-papers-filed-in-auckland-court/
This morning Phil Goff will be interviewed on Q+A.
Goff says that one way of dealing with local government funding problems is to have the GST on rates returned to councils for them to do as they wish with.
On free speech, Goff says that he has a responsibility to ensure Auckland is an inclusive city – by excluding some speakers?
Posted by Pete George on July 15, 2018
https://yournz.org/2018/07/15/qa-phil-goff-on-funding-infrastructure-and-free-speech/
Two Canadians reported to be promoters of controversial far right views planned on visiting and speaking in New Zealand, but after mayor Phil Goff banned them from an Auckland city venue they canned the tour.
I haven't heard of them or seen or heard anything they've said, so can't judge them on their views.
NZH: Mayor bans controversial Canadian pair from talking in Auckland Council venues
The promoter of a controversial Canadian pair accused of hate speech has cancelled their tour of New Zealand after Auckland Mayor Phil Goff denied them access to city venues.

Lauren Southern and Stefan Molyneux hold far-right views on topics ranging from feminism and immigration to Islam.

The Canadian couple had been due to speak next month at the council-owned Bruce Mason centre on Auckland's North Shore.

Pressure had been mounting on Immigration NZ to deny the pair entry with members of New Zealand's Muslim community and the Auckland Peace Action publicly among those expressing concern.
This seems to be a growing problem around the world – campaigns to block non-liked views or peoeple with particular reputations.
This could well be a slippery slope against free speech.
But promoter David Pellowe said the tour was instead cancelled when Goff moved to bar the pair access to Auckland Council venues.
So Goff decides who should not be able to speak at Council venues?
Free speech isn't an absolute right. Private venues can choose who hire their facilities and speak at them.
It's a bit different with publicly owned and managed facilities. And especially with mayors deciding who can't use them.
This makes them too vulnerable to speech bans by pressure group and adverse publicity – politicians too often do what they think is best for themselves, rather than for the greater good and fundamental speech rights..
Posted by Pete George on July 6, 2018
https://yournz.org/2018/07/06/goff-intervenes-auckland-venue-banned-speaking-tour-canned/
The Herald reports that nine Auckland City councillors have signed a letter of no confidence in mayor Phil Goff, but Goff says he did not know anything about the letter, would not comment on it, but that he was 'was not particularly concerned' about the stadium issue (that seems to have led to the loss of confidence).
NZH: Auckland councillors pen letter of no confidence in mayor Phil Goff
Nearly half of Auckland councillors have penned a letter of no confidence in mayor Phil Goff.

The Herald understands the letter relates to Goff's handling of the recent controversy for a new downtown stadium for Auckland and his refusal to give councillors full and open access to a $923,000 report by PwC on the matter.

It is believed the councillors plan to release the letter publicly at midday tomorrow.

Goff said tonight he had not received any letter from councillors, did not know anything about it and could not comment on something he had not seen.
Why has the Herald received a copy of the letter before Goff? That seems a crappy way to do things.
A source said the nine out of 19 councillors who signed the letter are John Watson, Wayne Walker, Greg Sayers, Mike Lee, Cathy Casey, Efeso Collins, Chris Fletcher, Daniel Newman and Sharon Stewart.

Watson, Casey and Collins have asked the Ombudsman to review the decision by Goff to release the report only under strict conditions.

Goff played down any possible vote of no confidence in him, saying he had just received unanimous support in glowing terms for his 10-year budget, unlike former Mayor Len Brown's last 10-year budget, which was passed with a bare majority.

"On what matters to Aucklanders I have received strong support," he said.

Goff said he was not particularly concerned about something – the stadium issue – that is an irritant to some people but not critical to what he is setting out to achieve.

The mayor said he believed councillors had had access to the pre-feasibility stadium report, but he had been disappointed from time to time when confidential material was released to other parties.
The leaking of confidential information is a serious issue – but so is the suppression of information from councillors by the mayor.
The letter highlights growing frustration among a group of councillors about Goff's leadership style. The frustration has been simmering since a minor committee reshuffle last December.

There is a feeling that Goff operates a Cabinet-style A team, marginalising a group of councillors who regularly vote against his initiatives.

Goff denied there was any tension between him and a group of councillors, saying generally he had a very amicable relationship with councillors as a whole and operated an open door policy.
Sounds like bullshit from Goff. The leaking of the letter indicates a lot of 'tension'. And is claiming he has an 'open door policy' a joke? Probably not intentionally.
This from Newshub three weeks ago: Phil Goff under investigation over alleged Auckland stadium secrecy
Auckland Mayor Phil Goff is under investigation after allegedly keeping a $1 million report secret from councillors for months on end.

Auckland councillors put in an official complaint over the secrecy surrounding the report, which discusses the pros and cons of building a new $1 billion stadium.

The proposal for the new build in Auckland's CBD has been kept under wraps by Mayor Phil Goff for a year, according to some councillors – a claim Mr Goff denies.

But the pre-feasibility report from PwC, which has already been done, cost nearly $1 million – and Albany ward councillor John Watson told The AM Show many of his fellow councillors are yet to see it.

"The only way councillors can get to see this report is to go into the mayoral office with mayoral staff like security guards watching over us as if we're like KGB spies.

"Some councillors have put in a complaint to the ombudsman given the notion of elected representatives being denied access to a $1 million document. And I would suggest it's not a particularly well-spent million either."
The letter suggests Goff has been unsuccessful in dismissing concerns over his stadium report.
And this doesn't look like partisan political side taking, as the named councillors appear to be spread across the political spectrum.
If councillors are claiming they are being shunned by Goff for not supporting him this won't help.
Goff has a major problem, and publicly at least seems in denial.
Posted by Pete George on June 13, 2018
https://yournz.org/2018/06/13/nine-councillors-express-no-confidence-in-mayor-goff/
Auckland City councillors have voted in favour of a regional fuel tax of 11.5 cents that will be applied from 1 July this year.
The council has also a ten year infrastructure budget of $26.2 billion.
RNZ: Auckland's fuel tax a reality after council vote
Auckland councillors have voted to bring in a 11.5 cent-a-litre regional fuel tax to fund transport projects after a crunch debate today. Councillors voted 13 to 7 in favour of the tax.

Today's debate on the proposed tax began with Mayor Phil Goff saying the consequences would be "inconceivable" if it was not introduced.

After the debate, Mr Goff told RNZ it was a "great news" for the future of Auckland.

"We've grasped the nettle, we know that we need to invest more, we know that for every dollar we invest, we're getting more than a dollar back in terms of government payments. This is another $4.3 billion into Auckland transport over the next decade and that's critically impertinent."
Stuff: Auckland Council approve Goff's $26 billion budget
On Thursday, council decided to implement Goff's final proposed budget which will represent the largest-ever investment in Auckland's infrastructure – $26.2 billion over the next 10 years.

It marked the beginning of "transformative work" aimed to tackle the critical issues of transport congestion and protecting the environment, Goff said.

The largest part of the budget will be going toward transport, where Auckland Council plans to commit $12b, of which $4.3b will be leveraged from the approved regional fuel tax.

That will take the overall transport investment in Auckland to $28b – with Goff also indicating a further $4b could be on the way from the Government to help with light rail.

On the environmental front, $311 million, from a natural environment targeted rate, would go toward tackling kauri dieback.

Auckland's 10-year budget breakdown:

– The budget represents a capital investment of $26.2b
– $12b for transport
– $452m in stormwater infrastructure and beach/harbour clean up
– $311m from a natural environment targeted rate to tackle Kauri dieback
– $40m for a climate change response fund
– $90m for coastal asset management
– $120m for sports and recreation
– $475,000 to Auckland City Mission to fight homelessness
Big city, big money.
Posted by Pete George on June 1, 2018
https://yournz.org/2018/06/01/vote-confirms-auckland-fuel-tax/
RNZ reports on a third case where mayor Phil Goff and the Auckland City Council withheld information requested under the Official Information act that required intervention by the Ombudsman's Office – Auckland Council stalled release of reports
The release of the $935,000 consultants' report on a downtown stadium on Friday was the third time RNZ had to resort to the Ombudsman's Office to extract public information.

The information was eventually found to have been wrongly withheld by Auckland Council.

All three directly involve the mayor Phil Goff.

In the latest case, RNZ had requested at the end of November 2017 the "pre-feasability" study looking at the prospects for a downtown stadium.

Advocacy for a closer look at the stadium had been part of Mr Goff's election campaign.

Mr Goff personally called for the report soon after he was elected Mayor in October 2016, following 33 years in national politics.

Consultants PwC were engaged in January, although that move was not publicly announced until March, and the draft was delivered on time in June to the council agency Regional Facilities Auckland (RFA).

The council argued initially that the report was only a draft, and therefore not required to be released under the Local Government Official Information and Meetings Act (LGOIMA).

Wrong, said Ombudsman Leo Donnelly in an opinion he sent to Auckland Council and released to RNZ.

"There is no basis for a blanket withholding of drafts under LGOIMA until they are completed and finalised," he wrote.

"To have a standard approach of withholding draft reports until they have been fully signed off, leaves the process open to exploitation by agencies who want to hold off release of information until it is most convenient."

Read the Ombudsman's opinion on Auckland Council's arguments here (693.4KB)

In negotiations between the council and the Ombudsman, a senior council legal manager had also rejected the notion that public interest was not a ground for release.

"Any interest in the contents of the Report is tangential to the overall stadium issue, and falls into the category of being interesting to the public as opposed to being of legitimate concern to the public."

Wrong, opined the Ombudsman.

"This is a project which, were the matter to progress, would involve the use of significant public funds, either through the council or central government," wrote Leo Donnelly.

"There is a public interest in the Council being transparent at each step of the process."
If draft reports could be kept secret under the OIA then many reports may never reach a final stage.
RNZ understands that the mayor's office has been the key player in seeking the withholding of the "draft" report, and it was the mayor's office which managed the reports' release on Friday.

It also allowed Mr Goff to have a "conversation" with Finance Minister Grant Robertson on the subject, just a week ago.

It's a re-run of RNZ's effort to get a report commissioned by Mr Goff on the future of the vehicle import trade on Auckland's waterfront.

Again, moving Auckland's port long-term and the space-hungry vehicle import trade in the shorter term, were Goff campaign battle cries.

Again, fresh in office, Mr Goff ordered a report on the costs and benefits, and a draft was completed in May 2017.

It didn't support Mr Goff's view that the trade was a blight on the waterfront. RNZ's request for a copy in July was declined.
Goff seems to have transferred poor OIA practices of central Government to the Auckland Council.
The outcome of the Ombudsman's Office investigation into Auckland Council conduct around public information release, is still awaited.
But will it make any difference to Goff's delaying tactics?
From Goff's campaign policy document:
Council is regarded as an organisation that needs to cut fat from its system, become more responsive to the needs of its residents and ratepayers, and to be more transparent in how it spends its money.
Transparency seems to have morphed into secrecy. And the fat cutting? Auckland Council paying $45 million for 'communications and engagement'
A leaked, confidential Auckland Council report has revealed the local body is spending $45 million running its various communications departments which employ 234 staff.

Critics have called for the council to tighten its belt and drastically cut the number of "spin doctors" it employs.

Mayor Phil Goff, who campaigned on tightening the city's excess spending, addressed the reviews, which he instigated, at a meeting with the North Harbour business community in August.

"I'm spending your money," he said. "You need to know you're getting value for money in what we spend."
Except when Goff wants to use his comms staff to keep things secret.
---
Goff is being interviewed on RNZ now.
Goff denies playing any part in the withholding of information. He says it follows a process. That process seems to be severely flawed.
He expects the Council to take on board the Ombudsman's comments but then puts forward reasons (makes excuses) for not releasing information.
Posted by Pete George on May 21, 2018
https://yournz.org/2018/05/21/stadium-report-information-wrongly-withheld-by-auckland-coiuncil/
Labour Minister Phil Twyford and mayor Phil Goff have announced a ten year transport plan for Auckland.
While it will bolster rail, cycleways and walkways, it includes major spending on new roads and motorway improvements links, and will rely in part on Public Partnerships and toll roads as well as a regional fuel tax.
RNZ: New $30b plan to tackle Auckland transport woes unveiled
The government and Auckland Council have announced the new Auckland Transport Alignment Project (ATAP) at Newmarket train station today.

Billed as New Zealand's largest ever civil construction programme, $28 billion will be poured into light rail and roading projects at Penlink and Mill Rd.

Heavy rail and bus upgrades, safety improvements and more dedicated cycle lanes are also part of the plan.

The projects will be funded by $4.4 billion raised from the new Auckland fuel tax, increased revenue the National Land Transport Fund and Crown Infrastructure Partners contributions.
ATAP major investments include:
Committed projects like the City Rail Link and northern motorway improvements.
Light rail
Eastern busway (Panmure-Botany)
Airport-Puhinui State highway upgrade, including a high quality public transport link to an upgraded Puhinui rail station
Bus priority programme, to more rapidly grow Auckland's bus lane network and support faster, more reliable and more efficient bus services
Albany-Silverdale bus improvements
Lower cost East West Link to address key freight issues in the area
Papakura-Drury motorway widening
First phase of the Mill Road corridor
Penlink (tolled)
Walking and cycling programme to expand the network and complete key connections (e.g. SkyPath)
Significant programme of safety improvements
New transport infrastructure to enable greenfield growth
Network optimisation and technology programme to make the best use of our existing network
Rail network improvements including electrification to Pukekohe, additional trains and other track upgrades
Read the full plan here
And of course there are critics (apart from National). RNZ: Transport plan 'too little, too late' for south Auckland
It's been billed as New Zealand's largest ever civil construction project – but South Aucklanders say a government transport plan doesn't go far enough.

But Jatin Khurana, who travels from Papakura to Ellerslie every day for work, said waiting 10 years for just the first section to be upgraded wasn't going to make much of an impact.

"The first phase – those few kilometres – that's going to have a bottleneck effect so it will not really improve the situation," he said.

"I think it's too little, too late."

Mr Khurana said the heavy congestion on the Southern Motorway and the increasing traffic on Mill Road had driven him to take the train.
Posted by Pete George on April 27, 2018
https://yournz.org/2018/04/27/auckland-transport-plan-announced/
Posts

Search this blog:

Recent Comments

Meta

Archives

RSS Links