Newsroom has another story about allegations of sexual misconduct, this time at a Young Labour summer camp. There are also questions over supply of alcohol to minors.
One drunk person can do a lot damage, but how it was dealt with is also important, and it seems astounding that while Labour Party general secretary Andrew Kirton was aware of it and is dealing with it, Jacinda Ardern said this afternoon that she knew nothing about it.
Newsroom: Sexual misconduct alleged at boozy Labour Party camp
The Labour Party has been hit with claims that four young supporters were sexually assaulted at one of its annual 'Summer School' camps near Waihi last month.

The four – two males and two females – are all 16 and were allegedly assaulted or harassed by a 20-year-old man during a wild party on the second night of the camp.

Newsroom has been told the man was intoxicated and put his hand down the pants of at least three of the four young people.

Labour Summer Schools are open to supporters of all ages including those under 18 and this year's camp in the Karangahake Gorge ran from late afternoon on Friday, February 9 to Sunday, February 11.

More than 50 people attended the camp and about a third of those were 18 or under.
The ages of those who were allegedly assaulted has not been revealed.
According to witnesses, a large variety of alcohol was available on Saturday night and many people, including a 15-year-old boy, were drinking.

The "mountain" of alcohol included rum, vodka, cider and a large array of RTDs.
If people under the legal drinking age were supplied with alcohol, that's another serious problem for Labour.
It's understood the camp's supervisor, Young Labour's Tess Macintyre, had gone to bed around 9pm and was not present at the party.
Was no one in charge or responsible after that?
The camp's 'Code of Conduct' was given to everyone who registered for the event.

It states there is "zero tolerance for inappropriate behaviour. Inappropriate behaviour includes any criminal activity, as well as bullying or acting inappropriately toward other attendees".
It sounds like a major fail on that one.
The code also refers to alcohol and sexual harassment.

"The organising committee has to pay special attention to the activities of all under 18s in the camp (especially in regards to alcohol). We do not want to prevent you having fun but must act according to the law. No Means No! Sexism and sexual harassment of any form will not be tolerated."
And a fail on that as well.
The Prime Minister, Jacinda Ardern, spoke at the event but was not present at the time of the incident.

Other speakers included Labour's General Secretary, who outlined the party's plans for 2018, MP for Waiariki Tamati Coffey on Māori development and Dr Sarb Johal on mental health.

Newsroom understands that the man involved was removed from the camp on the Sunday morning, the same day those attending heard a talk on feminism by Angie Warren-Clark – a Labour list MP and manager of the Tauranga Women's Refuge.
She may not be very happy about the allegations.
Labour's General Secretary, Andrew Kirton said he was aware of the incident and was currently, "working through it".
Keeping the lid on it, until the news broke.
In a press conference this afternoon, Prime Minister Jacinda Ardern said it was the first she'd heard of the allegations.

"I went to the opening of that summer camp, I attended at the very beginning, people had just arrived so certainly none of that was apparent when I was there. This is the first I've heard of any such allegations but now that you've made them I'll happily investigate them because that is not what I would expect of any Labour function."
'Happily' is not a great word to use in these circumstances.
"Given that I've just heard it now, I'd just ask for the time to look into that personally."

On whether leadership knew: "That could well be the case, I'm certainly not ruling out that our Labour Party leadership may well be aware, I'm certainly just pointing out it has not been raised with me until now."
It seems remarkable that the Labour Party was aware of the incident and "working through it", but that Ardern was not informed.
This is a major embarrassment, with possible illegalities have occurred in respect of alcohol and supply and the sexual misconduct.
1 News has just reported that the police were not involved in the complaints. Why not?
How Labour deals with this from now is very important. This has put the Prime Minister in a very difficult position.
UPDATE: Statement from Andrew Kirton:

This sounds like an attempt at belated damage control. I think that Kirton has a bit more explaining to do.
UPDATE 2:
So it appears this was known about publicly (on Twitter) a month ago. I have the  Twitter account details but there is associated information on that tweet thread that I don't want to repeat here).
UPDATE 3: a statement from Ardern: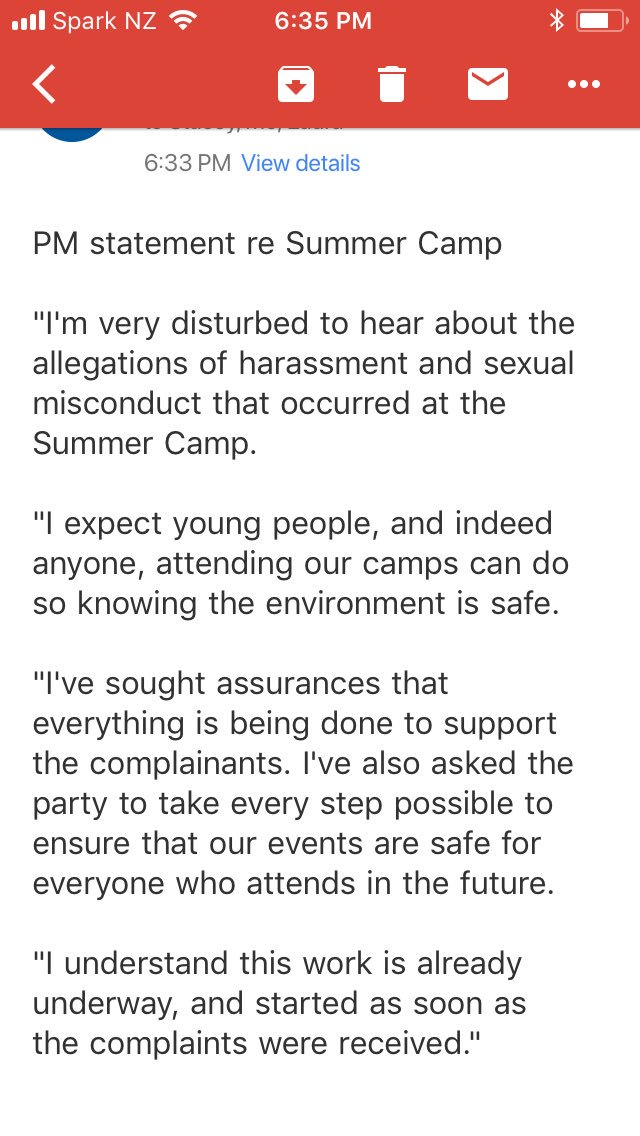 That is doing little other then repeating Kirton's 'assurances'. Ardern needs to step up and show leadership on this – which means taking appropriate responsibility.
So Kirton decided to try and deal with it all on the quiet himself? Very risky.
So it sounds like acted when he knew the story was coming out.
There is more of this story to come out by the look of things.