Rugby Australia says they intend to sack Israel Folau "In absence of compelling and mitigating factors, it is our intention to terminate his contract".
This dents Australia's chances in the Rugby World Cup later this year, but they appear to have little choice, after Folau's homophobic, forniphibic, idolphobic, fibaphobic, drunkaphobic social media post.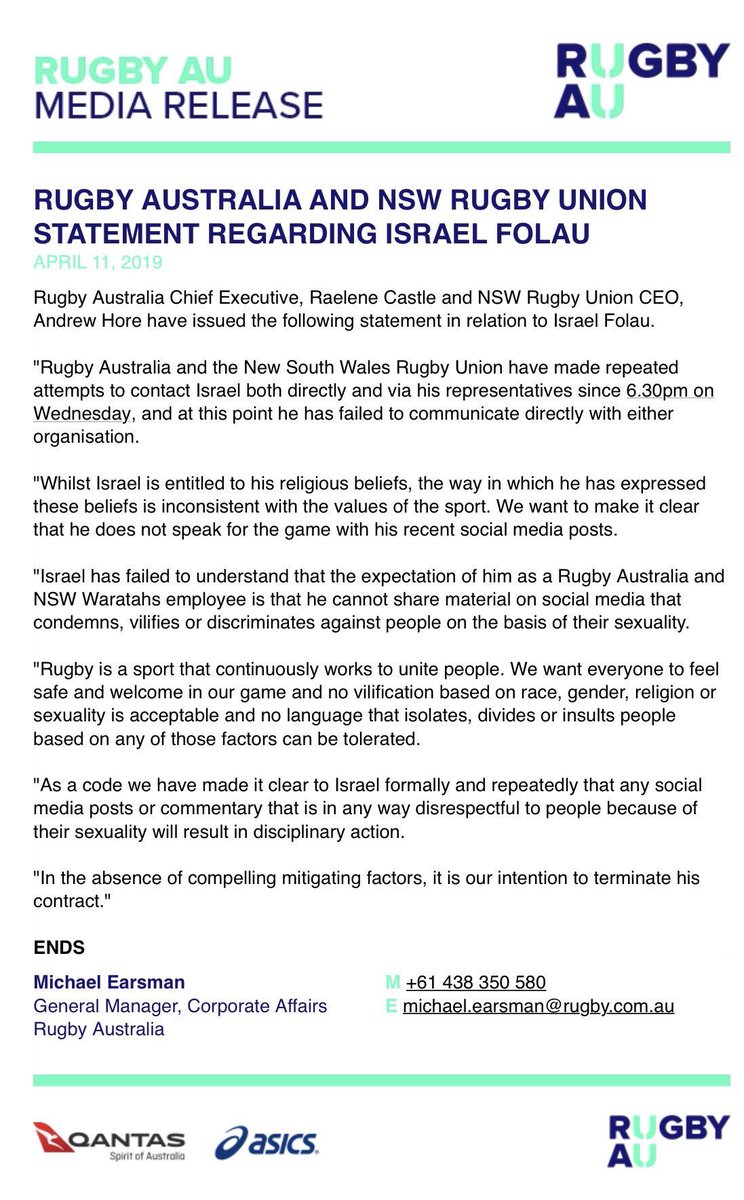 The NRL has also stated that they would not allow Folau to return to league – NRL won't allow sacked Israel Folau to rejoin the NRL
Any hopes of a rugby league homecoming for fallen Wallaby Israel Folau have been dashed after ARL Commission chairman Peter Beattie sensationally banned him from the NRL on Thursday night.
While up to nine NRL clubs may have the financial means to sign Folau, the governing body has ruled out allowing them to take a risk on the controversial star ending any hopes the former Kangaroo could seek refuge in the code which gave him his start.

"Israel Folau fails the NRL's inclusiveness culture which is a policy strongly supported by the Australian Rugby League Commission," Beattie told the Daily Telegraph on Thursday night.

"As a game, we have a clear position to be inclusive.

"From our point of view rugby union has made a decision that clearly rugby league would support.

"The ARLC therefore would not support his registration to play in the NRL."
Folau is finding that 'free speech' can have consequences, especially when one ignores contractual agreements not to repeat making divisive public statements. He said that just about everyone will go to hell if they don't repent (which is a ludicrous concept), but his lack of repenting will guaranetee's his sports career will go to hell.