The waiting list for public housing has doubled over the past two years, increasing substantially since the Labour-led government took over in late 2017, despite Labour promising to increase housing stocks and decrease waiting lists and homelessness.
The suspension of tenancy reviews, and landlords selling up and getting out of supplying rental housing, have both been blamed.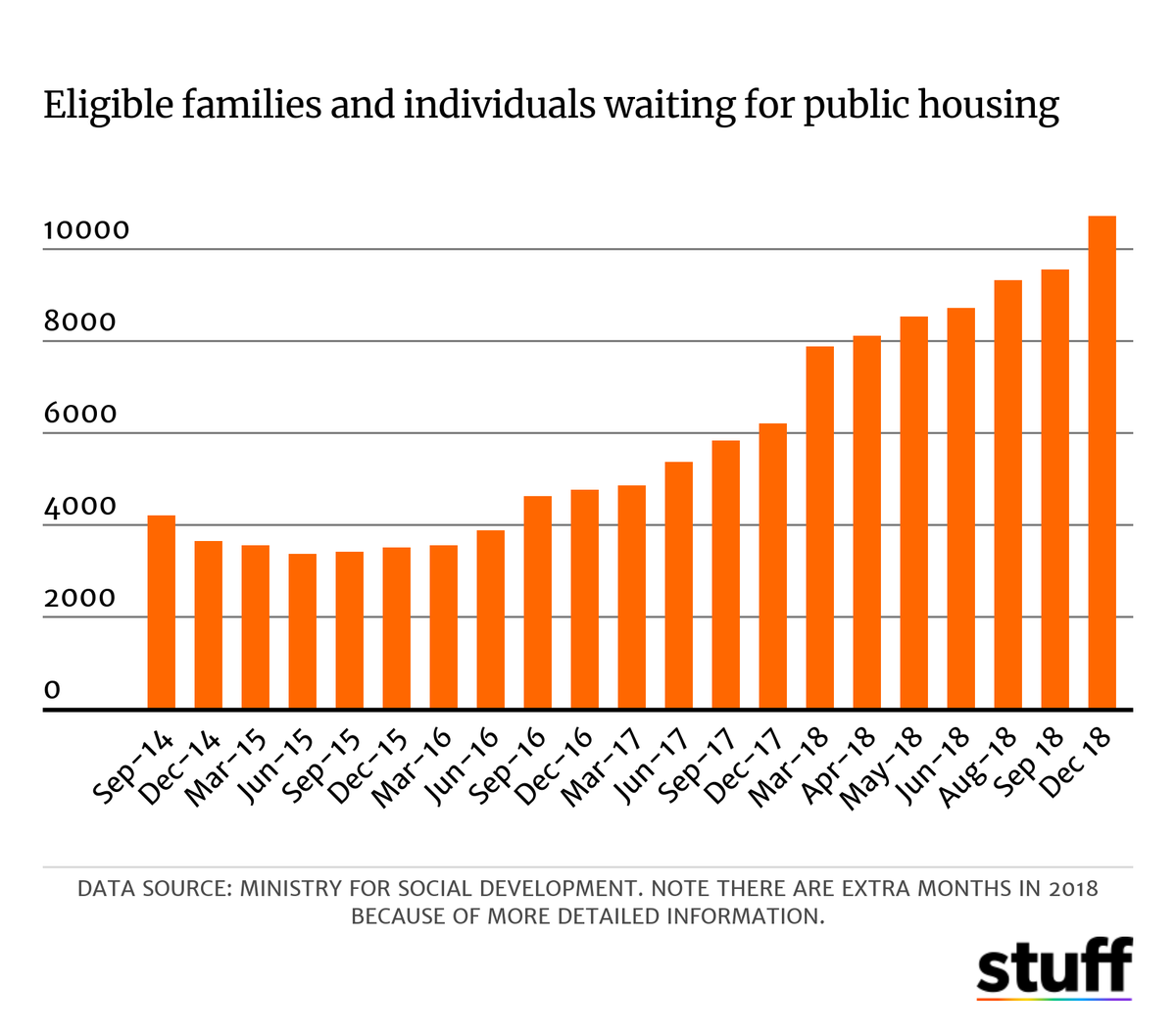 Stuff:  Public housing waitlist cracks 10,000, with more families waiting for longer for housing
The public housing waitlist has rocketed past 10,000 as more people wait longer for public housing.

At the end of 2018 fully 10,712 eligible households were waiting for state or social housing – 73 per cent more than a year ago, and over three times the number waiting at the end of 2015.

The vast majority – 78 per cent – were deemed as "priority A", meaning the Government believed they were the most in need of help. Almost half were in Auckland.

This is despite the Government building 1658 new public housing places over the last year, the largest increase in a decade.

Ministry of Housing and Urban Development officials blamed higher rents, greater awareness of public housing, and a slowdown in the rate of people exiting public housing for the increase.

Housing Minister Phil Twyford said concerted effort over "many years" would be needed to fix homelessness.
He didn't say that during the election campaign in 2017.
Twyford paused "tenancy review" last year – the process by which Housing New Zealand check whether a tenant is still eligible for a state or social home.

National housing spokeswoman Judith Collins vigorously criticised the move, but Twyford said previously that it had not contributed significantly to more people staying on in state homes – only around 200 households would have been up for review during the pause.

Tenancy review resumed on Monday with some changes: any family with children or someone over 65 is now exempt.

Emergency motel stays were on the up too.

In the three months to the end of 2018, 15,676 emergency housing grants for motel stays were granted -up from 14,000 the quarter prior. These went to just under 2700 individual clients – with many taking multiple grants. This was up from 2585 in the quarter prior.

Collins said Twyford's multiple reforms to private rental market – both enacted and promised – had driven up rents as landlords were selling up and getting out of the business.

"Landlords are leaving the market in droves. The Government in its steps to try and attack landlords has actually sent a whole lot of people out of that market and that means that there is now more people wanting public housing," Collins said.

"They are selling up and they are selling to people who might put two people or one person in a house rather than five or six."

Twyford received advice last year from officials saying rents could rise as the result of his reforms to tenancy laws thanks to landlords feeling like they were under assault and selling up to owner-occupiers, who generally have less people in each house than renters.

"While these effects should be minor, the cumulative effect of changes to the Residential Tenancies Act 1986 may lead landlords to perceive the effects as more than minor. As a result, even if legislative changes did not materially affect the financial returns of landlords, some many nevertheless choose to sell their rental properties," the officials wrote.

"The combined increase of these policies will be to increase sales of rental properties, with fewer landlords purchasing."

Twyford's changes included ending letting fees and increasing the quality of rental properties via the Healthy Homes Act.
Sorting out major housing issues was never going to be quick or easy.
The National government were perceived to have dropped the ball on housing, and also on RMA reform (which would have made it easier and cheaper to open up land for development), leaving Twyford and the incoming government with huge problems too deal with.
If anything Twyford has managed it worse than National.
Newshub:  Action, not 'rhetoric' needed from Government on housing – poverty campaigner
Ricardo Menendez March from Auckland Action Against Poverty, thinks resources have been wrongly allocated.

"We've seen a lot of talk about KiwiBuild, we've seen a lot of talk about affordable private rentals, but the state housing sector has suffered as a result."

Mr Menendez March said not enough is being done to solve the issue and the Government needs to focus on action.

"We are calling on the Government to look at genuinely pulling out all of the stops, not just rhetoric, actually putting in the resources required to build enough state homes."

He said that more needs to be done to improve the unaffordable private rental market too, including regulation.

"The Government have said nothing about putting a cap on rents, introducing legislation to freeze rent increases or at least limit the amount."