'White Supremacist' is being used to describe a radical fringe in new Zealand in the wake of the Christchurch Mosque massacres.
Last week Christ Trotter (@BowalleyRoad) tweeted:
He was referring to a post at Bowalley Road: What Is A White Supremacist? (edited)
THE TERM "WHITE SUPREMACIST" is rapidly replacing the more straightforward "racist" in mainstream journalism.

On social media, especially Twitter, the term is being used, anachronistically, to characterise the ideas of explorers and colonialists living in the eighteenth and nineteenth centuries. While it is not unusual to encounter such terminological misuse in the writings of radical post-modernists, it is worrying to see the mainstream media subsume so many different historical and ideological phenomena into this single, catch-all, expression.

The current misuse of the term "white supremacy" is also highly dangerous politically. By singling out this particular form of racism and misapplying it to famous figures from the past, as well as to people living in the present, the users of the term risk not only its rapid devaluation, but also the angry retaliation of those who feel both themselves and their beliefs to have been wrongly and unfairly condemned.

It refers, primarily, to the political regimes which arose in the southern states of the USA in the years following the American Civil War – most particularly in the decades immediately following the withdrawal of federal troops from the states of the defeated Confederacy in 1877.

These regimes were built on the bedrock requirement that whites must in all conceivable circumstances: economic, social, cultural, legal and political; be placed ahead of and above blacks. The poorest and most ill-educated white farmer had to be able to count himself better off, both subjectively and objectively, than his black neighbours. White supremacy wasn't just a matter of personal racial animus, it described a comprehensive and internally coherent system of race-based rule.

A "white supremacist", accordingly, is a person who not only subscribes to the principles underpinning the infamous "Jim Crow" system, but also – like the contemporary Ku Klux Klan – strives for its return. Obviously, the term may also be legitimately applied to the very similar systems of race-based rule erected in South Africa and Rhodesia between 1948 and 1992.

Simple racial chauvinism is very different from the conscious creation of a race-based economic and political system. If, however, the media persists in lumping together every Pakeha who takes pride in the achievements of western civilisation with avowed Nazis, like Philip Arps, or genocidal eco-fascists, like the Christchurch shooter, then not only will the charge lose all its definitional and moral force, but, sooner or later, those so lumped will come to the conclusion that they might as well be hung for sheep as lambs.

Those on the Left who are promoting the use of this term, presumably as a way of shaming Pakeha New Zealanders into acknowledging and renouncing their "white privilege", may soon come to regret driving their boots so forcefully into such a large pack of sleeping dogs
Scott Hamilton (@SikotiHamiltonR responded on Twitter): "Just like South Africa & Australia, NZ deployed a mixture of segregationist & assimilationist policies towards non-white peoples in the 19th & 20th centuries. "
---
In his new column my friend Chris Trotter argues NZ was never a white supremacist society, like South Africa or America. I think Chris' case rests on a false dichotomy & on a denial of the historical record. I want to argue against him & post a few old documents.
Chris argues that NZ doesn't have a white supremacist history, because white settlers sought to assimilate Maori, rather than segregate the races. But settler societies have commonly deployed both assimilationist & segregationist policies. The two can complement each other.
Let's consider the case of South Africa, which Chris cites as the sort of white supremacist society NZ was not. Apartheid-era SA was notorious for isolating its non-white peoples. It had laws against miscegenation, & segregated toilets. But SA also practiced assimilationism.
The Soweto uprising of 1976 began as a protest against the attempts of South Africa's rulers to assimilate blacks linguistically. Black schoolkids rejected the demand that they use Afrikaans, the language of their oppressors, in the classroom.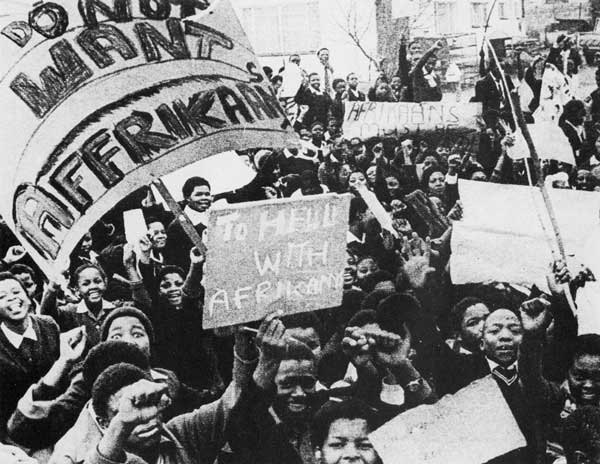 Australia offers another example of a settler society combining segregation with assimilationism. Before 1968 Aboriginals were isolated from other ethnic groups in Australia. Their movements were restricted; they could not participate in electoral politics.
But Aboriginal Australians also suffered from assimilationist policies. White administrators created a 'stolen generation', by removing half-caste children from Aboriginal mothers, & making sure they were raised in a white world. This policy was s'posed to 'whiten' Aboriginals.
Just like South Africa & Australia, NZ deployed a mixture of segregationist & assimilationist policies towards non-white peoples in the 19th & 20th centuries.
The attempts at assimilation, like the demand Maori kids use English at school, are infamous; the segregationism is not.
Although settler governmentsts allowed Pakeha to serve on juries considering cases involving Maori, the ban on Maori serving on general juries lasted until 1962. Maori were not considered fit to judge whites, just as SA blacks were kept off juries in that country.
Chris contrasts NZ with America in its 'Jim Crow' era, when both public facilities & private businesses often segregated white & non-white patrons. The segregated rest rooms of mid-century America are notorious. But few Pakeha know that NZ had the same facilities.

It is not possible yet for me to give an exhaustive account of the segregation of rest rooms in NZ, but my research suggests that the practice was widespread. I want to offer a few examples, with the help of old newspapers.
In 1936 Maori inhabitants of Tauranga protested against their exclusion from the town's rest rooms, & from some rest rooms that were being planned. In response, Tauranga's mayor said that Maori wld have to donate some land, if they wanted to get their own, segregated, toilets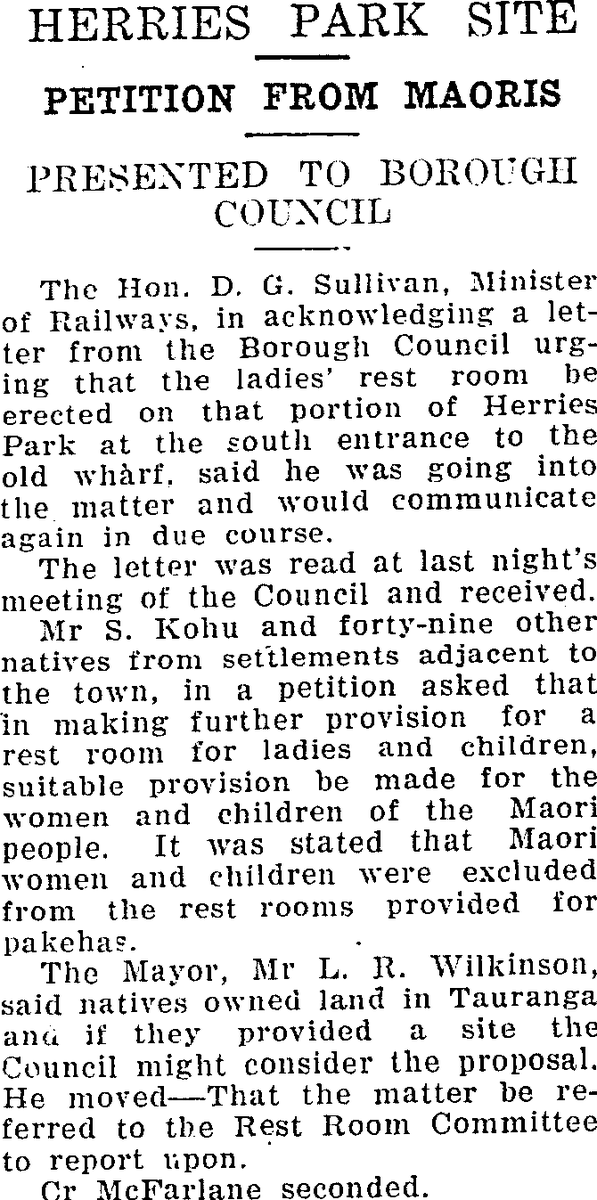 Hamilton was another town with whites-only rest rooms. In 1945 the Waikato Times reported the standoff between the city's mayor & the Maori community. The mayor wanted Maori to pay for a segregated toilet; Maori rejected his request.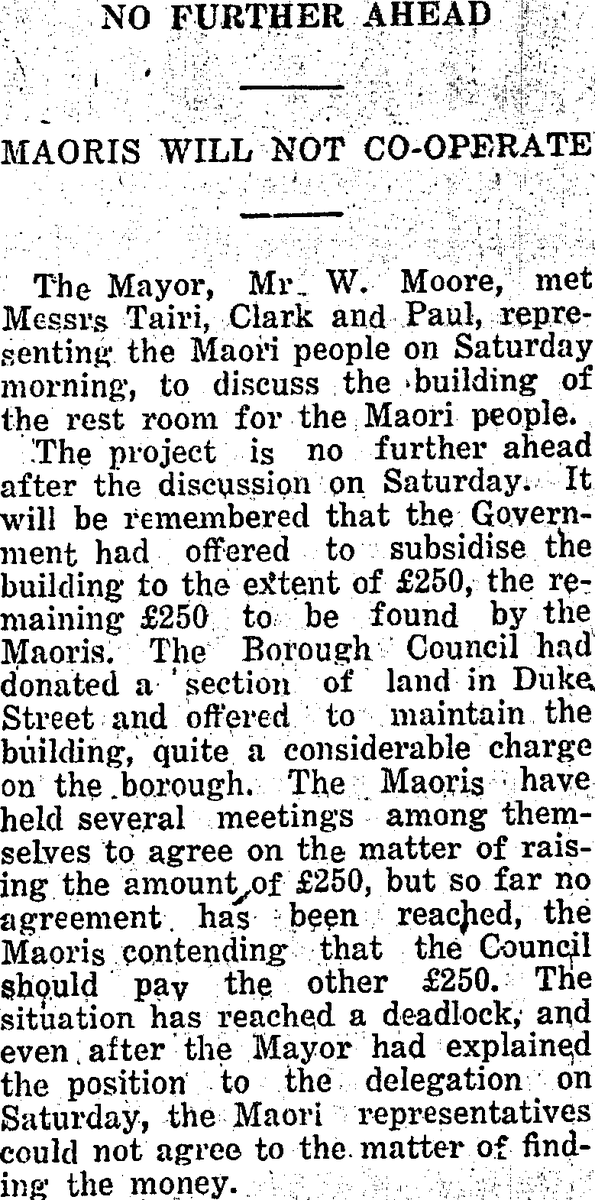 Maori had always resented the segregation of rest rooms, but by the late '40s they were being joined by Pakeha. When Gisborne councillors announced plans for whites-only women's rest rooms in 1949, locals of both ethnicities wrote angry letters to their local paper.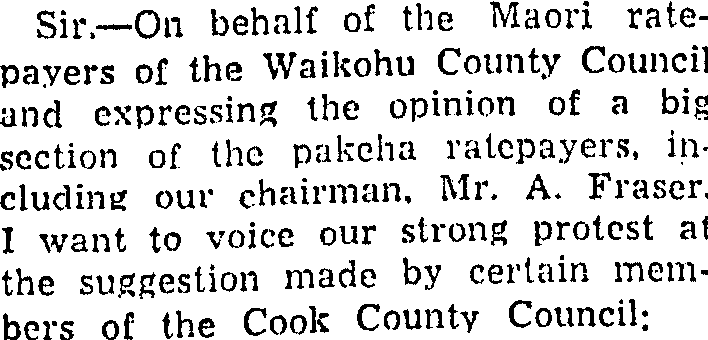 Kaitaia was another town that saw protests over segregated rest rooms in the '40s. When the rest rooms were being planned, local politicians had happily broadcast their plans for segregation. Their insouciance tells us something about the prevalence of segregation at the time.

Rest rooms were not the only public facilities that local politicians tried to bar Maori from in early 20th C NZ. In 1921 the Waipa District Council closed Te Awamutu's fledgling library, because it was being visited by too many 'undesirable' elements, like 'Maoris' & 'dogs'.

Private businesses as well as public amenities often practiced segregation in NZ. A 1938 survey found that 26 of Hamilton's 27 hotels & hostels refused to host Maori. Local politicians suggested building a Maori-only hostel.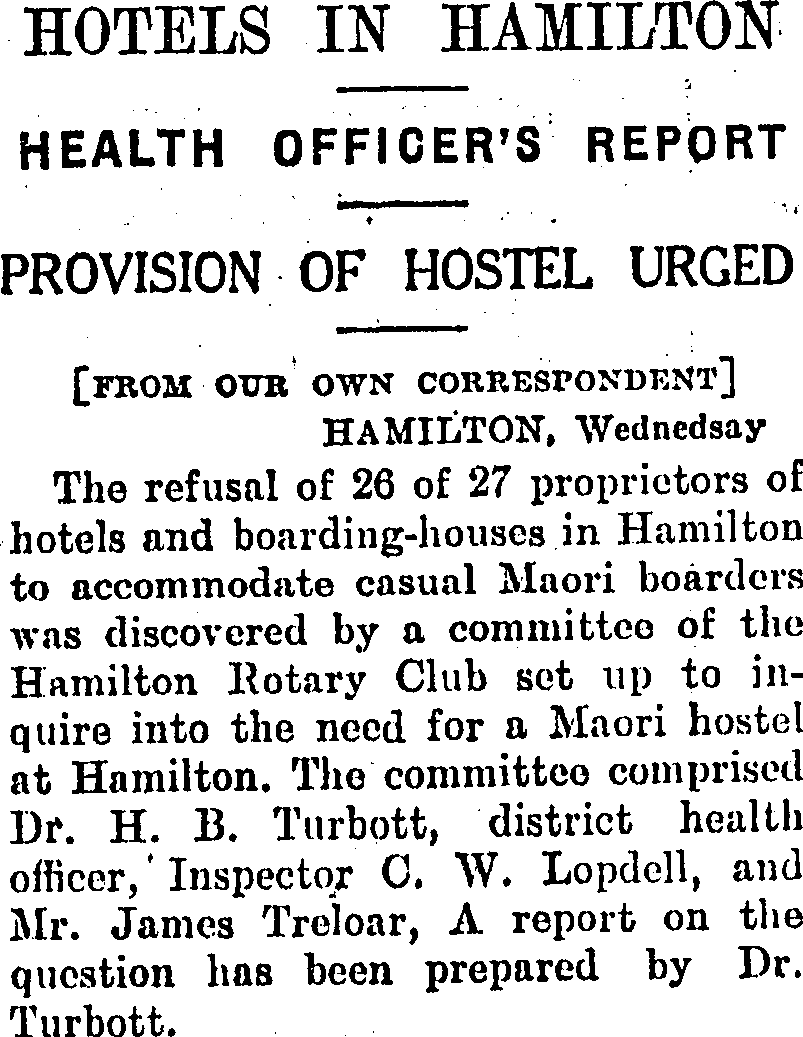 It was not only Maori who suffered from segregation in 20th C New Zealand. Indian & Chinese migrants often found themselves barred from taverns, barbers, and swimming pools. In 1918 Hamilton's Indians protested their inability to get a haircut.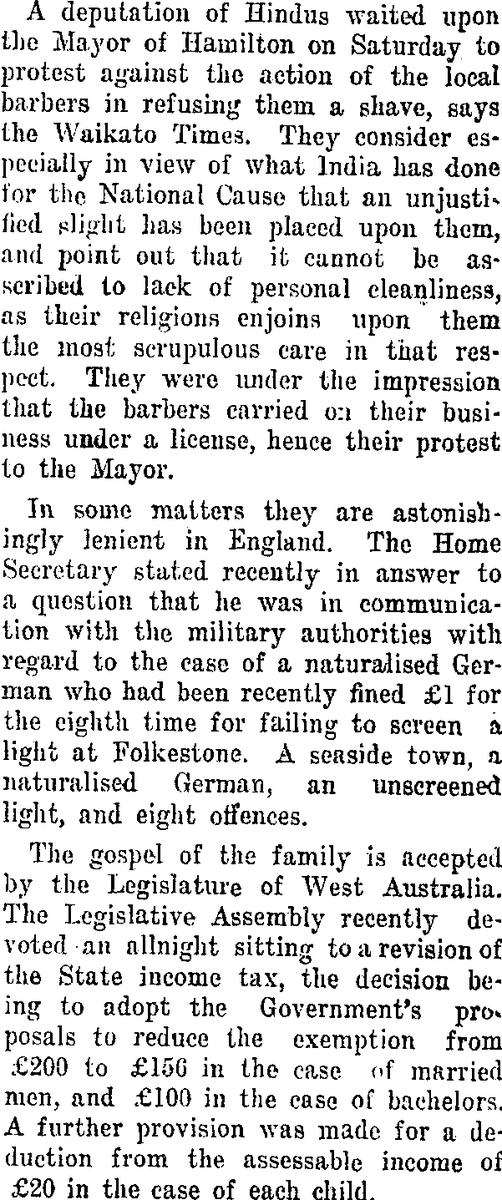 Jelal Natali was a campaigner for the civil rights of Indian Kiwis for decades. In the '20s Natali protested against the segregation of Auckland's tepid baths, pointing that all but one of the facility's pools were reserved for whites.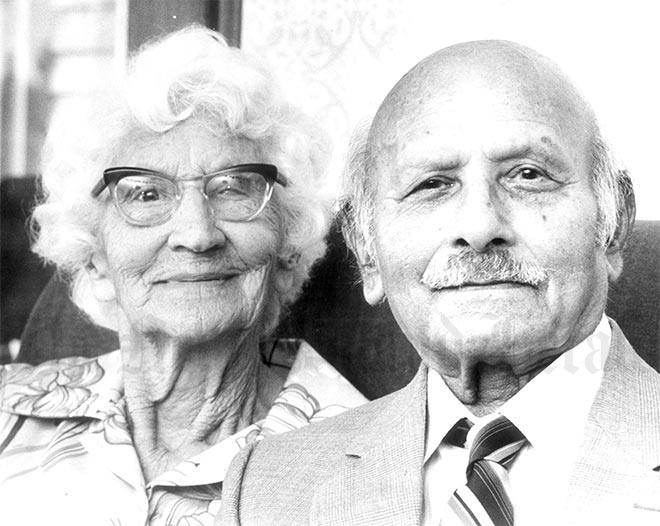 Sometimes segregation led to violence. On February 25, 1920, at a time when NZ troops were fighting Indian sugar workers in a turbulent Fiji, a group of Indians were ejected from a tavern in Te Awamutu. White patrons followed them onto the footpath, and a riot began.
Chris contrasts the US, with its Ku Klux Klan, with NZ. He appears not to know that the KKK was violently active here in the 1920s, when it formed in opposition to Asian migration. In 1923 the KKK took responsibility for attacks on businesses in Auckland & in Christchurch.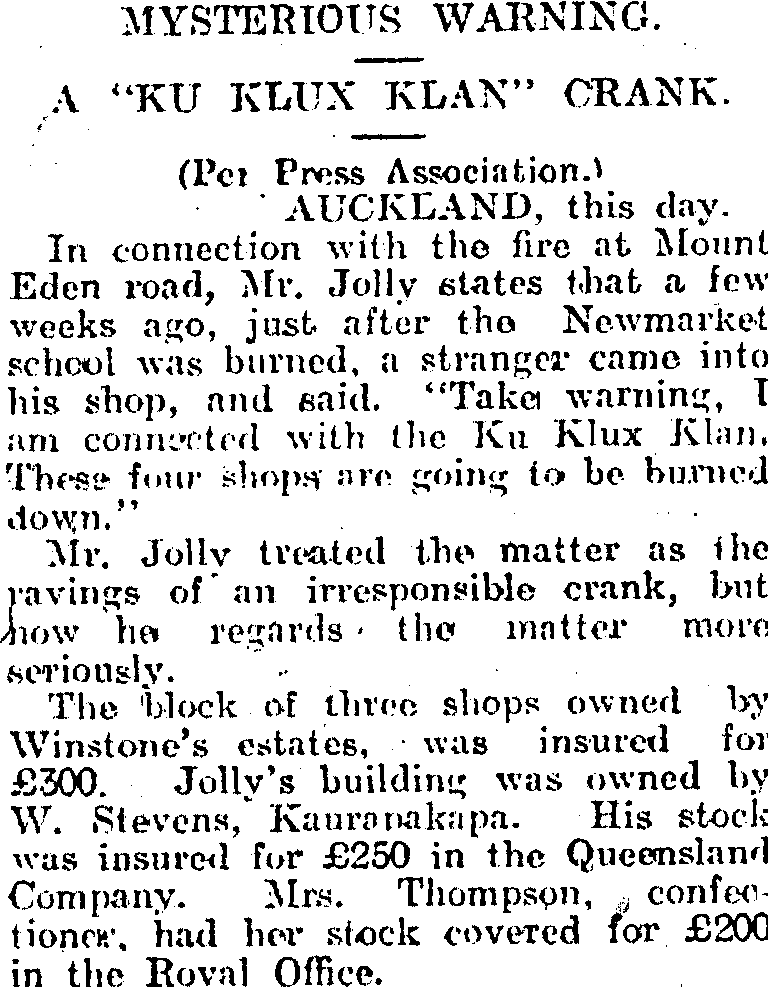 Chris might argue that the KKK was, in NZ, a short-lived & uninfluential organisation. He'd be right, but other, much larger & more powerful groups aligned themselves with the KKK. One was the Protestant Political Association, whose leader Howard Elliott praised the Klan.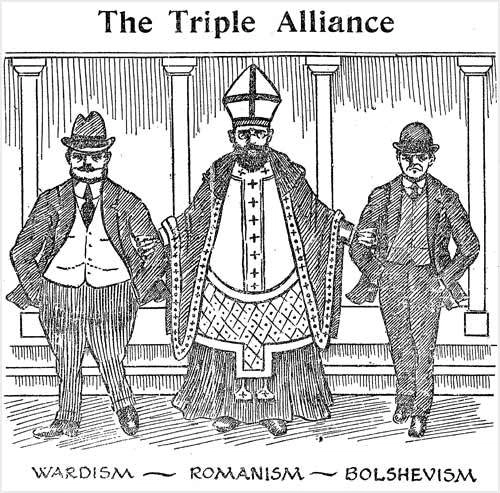 The White NZ League was another influential organisation that shared the goals of the Klan. The League formed in 1926, & called for the deportation of all non-white migrants from NZ. It was endorsed by the RSA & by Auckland's Trade Union Council.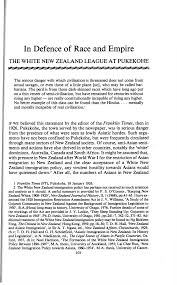 The White NZ League was based in Pukekohe, & helped to enforce the segregation of South Auckland's pubs, barber shops, & cinemas. In 1959 a major civil rights battle began when Dr Rongomanu Bennett tried to get a drink at Papakura Hotel, and was turned away.
Dr Bennett had many contacts in politics & the media, & he made sure Papakura's refusal to serve him a drink was reported widely. The suburb was dubbed 'the Little Rock of NZ' by some journalists. PM Walter Nash eventually intervened, & the colour bar at Papakura ended.
How widespread, in the postwar era, was the sort of colour bar Rongomau Bennett encountered in Papakura? While researching my book Ghost South Road, I focused on the Waikato & South Auckland. But Noel Hilliard's 1960 novel Maori Girl suggests it extended beyond the north.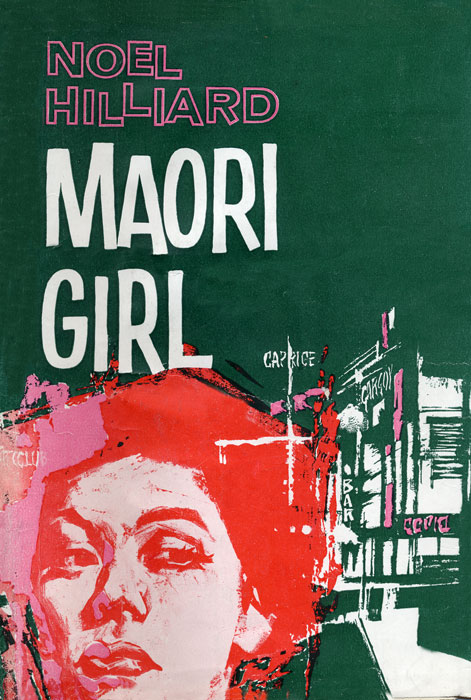 Hilliard's autobiographical account of a cross-racial marriage caused a sensation when it was published. Hilliard described the open prejudice of Wellingtonian business owners – hoteliers, for example – who refused Maori clients.
Of course, NZ was never a mirror image of the Jim Crow US, or South Africa. Maori like Carroll & Ngata rose to positions of power. Interracial marriages were never banned. But segregation as well as assimilationism is part of our history, contra what @BowalleyRoad claims.